Christmas Organizing

Christmas organizing is not impossible. This is not just about getting up earlier, staying up later and working harder. It is about getting organized for Christmas in a stress-free manner.
This does not have to be so difficult.  But I know a lot of you struggle at Christmas time.
I know I did.  I used to hate December and dreaded Christmas time.
But no more.  I have simplified and stream-lined my entire life to be as stress-free as possible, including getting ready for Christmas.  It is December 11 as I write this and I have my tree up and decorated, the rest of my house is decorated.  I have bought and wrapped the gifts that I am giving at our early family Christmas exchange next weekend.
All I have left to do is get a few more gifts for my kids in the next few weeks.  Those should be easy because it will mostly be money.
Here are some of the ways I make my Christmas time easy.
Christmas Organizing Ideas to Make the Season Easy

Make Lists

Make lists of ideas for whoever you buy for. Keep this list in your Planner book and take it with you when you go shopping. Don't rely on your memory.

When my kids were young they would make out pretty elaborate lists of what they wanted. Plus, whenever I was shopping with them at this time of the year I ask them while we are in the store, what they want. Then I just write it down right then. I always had at least a small pencil and index cards with me in my wallet. You cannot hope to do any Christmas organizing without lists.

I try to get my kids as much as I can afford of what they want. It is so much nicer and satisfying to see their reaction and pure joy when they get some of the things they really want. My Christmas organizing revolves around making it nice for them.

There have been Christmas's where we didn't get the kids hardly anything they wanted because of a lack of money and it was just so sad. Seeing the disappointment on their little faces as they pretended to like what they received. Don't do that. Try to get them something they want.
---
From Blackdragon
Some of the thoughts he had as the child of low income parents and how a lack of gifts and toys at Christmas shaped his future.

---
As you buy gifts you create an organized list for each person. The list will include what you bought, the cost of the item and the total spent on each person. This is really the only way to keep track of the number of gifts and how much you are spending. It makes it fair and you know when you are done.
Even if you have an unlimited budget for gifts you should do this because you would want to even out your cost for each person. I spend the most on gifts for my kids. I want to spend about the same amount on each child. That is the only fair way. I buy gifts for my parents, my sister, my brother and my niece. I want the cost of those gifts to be within the same range. I wouldn't get my brother a $500 saw and my sister a $10 gift certificate. That wouldn't be right.
Types of Gifts
If you are traveling somewhere with a lot of gifts, seriously consider getting things as small and light as possible. I have had too many difficult Christmas's by going along with my wife's ideas of big gifts for all her family. The big stuff doesn't always cost as much as the small stuff but it is so hard to deal with. Sometimes there wouldn't be room in our van to get in all the gifts. Carrying in all those gifts took me a long time. Do yourself a huge favor on your Christmas organizing by keeping to small gifts.

Small gifts like envelopes with cash or checks are the best. Next are gift certificates to places you know the person loves or uses.

Jewelry is still a great gift for all the females you buy for. Small and light and they love it.

Smaller gifts are even better for gifts you don't travel with. Hauling big things into the house, hiding them from the kids until Christmas and then lugging them out at Christmas is really a pain. I hurt my shoulder one year dealing with a ping pong table. I hurt my back the next carrying a basketball hoop with stand out of the basement. I did all the heavy hauling while my wife occupied the kids. We did our Christmas organizing and made is special for the kids but I got hurt in the process.
Once You Have the Gifts

As I get the gifts I will wrap them within a few days. You may need to check with others, like your ex, on the kids gifts first. It would not be a good use of time to wrap gifts that you may have to return.

After the gifts are wrapped I put a to and from label on them right away. My ex never did this and it baffled me. She said she would be able to recognize what the gift was and who it is for by the shape of the package. Maybe she could. But why not save your memory for other things?

Decorating

I like the outdoor Christmas lights that other people put up. I really enjoy seeing them when I am out in the evening. But I absolutely hate putting out those things. The snow, the cold, the frustration and irritation is too much for me. I just can get by without it. Plus how often do you even look at your own house?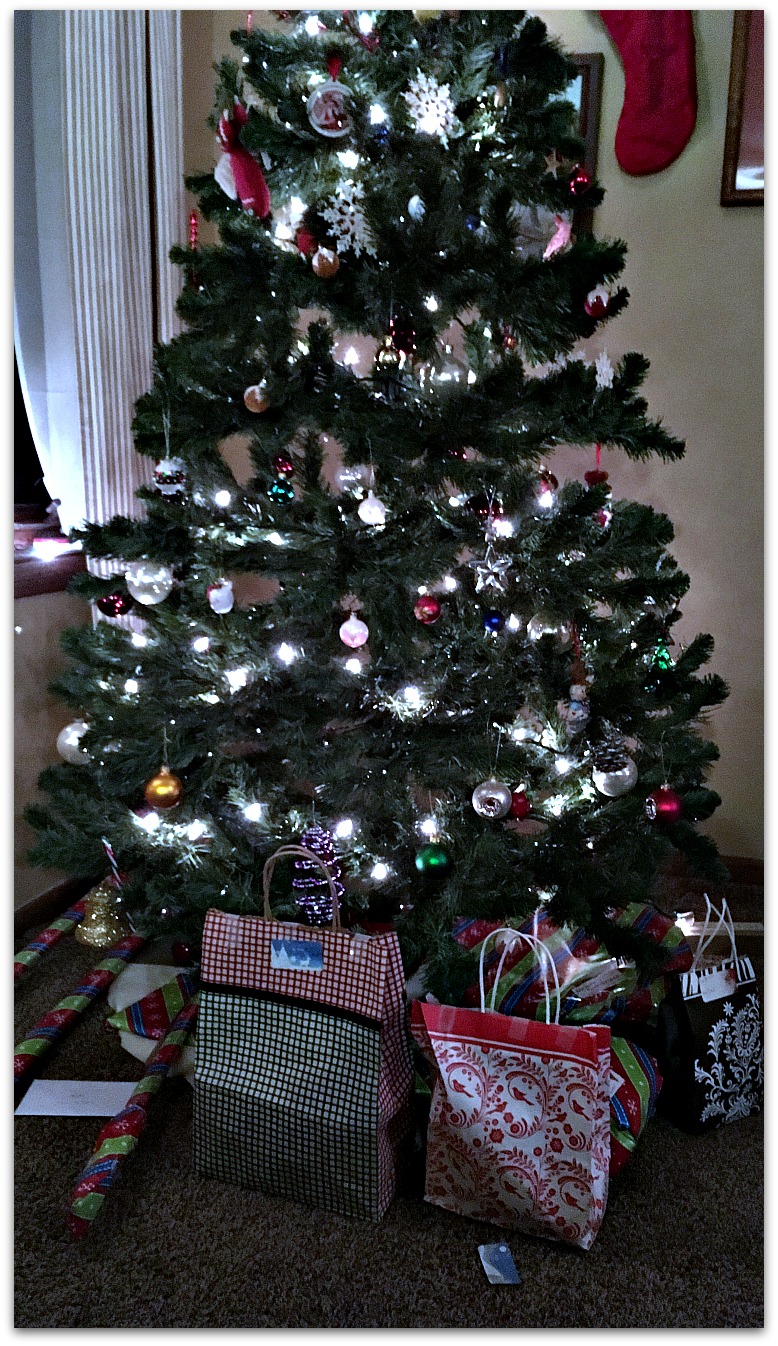 My beautiful, modest Christmas tree fully decorated weeks ago and with most of my gifts bought and wrapped
Indoor decorating is a little more for me. At least I will see it every day. I have a small artificial tree and some ornaments. It does not take that long to set it all up. That's all I really want now.
When I was married we bought a huge, tall artificial tree.  It was already set up with the lights already strung.  The problem is that when one of the lights burns out the whole string stops working. It is a tremendously frustrating and time consuming process to determine which bulb is burned out. You have to go through each bulb one by one. The tree is nine feet tall. It takes hours and you might not be able to find it anyway.
The last few years my ex just put in additional lights in the burned out string areas. She does have a flair for decorating a Christmas tree. It is always quite beautiful when she is done. It's just so hard to deal with a big tree and all those lights that don't work. Keep it smaller if you can if you want to improve your Christmas organizing.
More on the Gifts

If you have kids in school you will need to get all their various teachers and coaches and instructors, and whoever else a small gift. It seems impossible to know what to get all those people you hardly know. I would stick to food and drink type items. Nuts, chocolate, cheese, crackers, coffee, cookies, candy. Even if the person is on a strict diet, allergic, or hates the food you gave, they probably can make use of the food gift. They can bring it to parties they go to. They can re-gift it. They can just enjoy it. To me it is better to give something that will be used up and the wrapper thrown away. Why would you want to give something to someone that they will feel like they have to keep. Not everyone can just throw things away like you and I can. Not everyone is good at Christmas organizing. You would just be adding to their clutter.
Making Time for All This

If you want to have more holiday type enjoyment you will have to cut out some of your other activities. I am convinced that this is one of the reasons people get sick and stressed out at Christmas. They don't subtract first. They add the Christmas activities to an already busy schedule. That is the wrong approach to Christmas organizing. All wrong. You need to subtract as much as possible first. People try to do it all. They get up earlier and stay up later. They keep trying to do the same things. They keep going instead of relaxing and recharging when they need to. They go faster. They think Christmas organizing means doing more. It doesn't. It means doing less of other things so you free up time for holiday type activities.
What About Money

You will have to be careful with money at this time of year. All the charities will have their hand out and it will be tough to resist even if you need all the money you have.

Also, a lot of big bills come due at the end of the year. Property taxes, especially. It seems like I have 2 or 3 other bills that come only once a year and are due on December 31.
Dealing With The Weather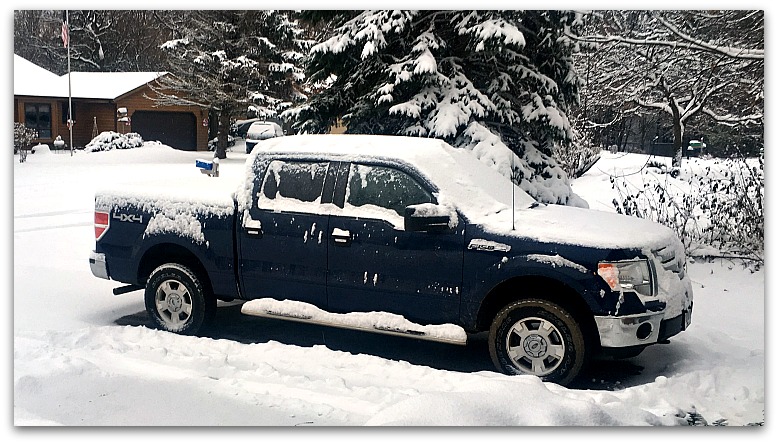 My 4 by 4 pickup makes winter easy for me
It's winter time so you need to have your car ready for winter. You need new tires and winter wiper blades. You need windshield scrapers and brushes. Taking care of the most important things like your car is the best way to stay safe while you are doing your Christmas organizing.

You need salt and shovels, gloves and hats and maybe a new coat.
Final Thoughts on Christmas Organizing

In short, December is the most expensive month of the year. It would make the most sense to set aside a huge amount of cash for every December. Do this all year long. You have no excuse for not realizing that December is going to cost you a lot now.

Try to be patient at holiday time with other people. Most people are going to be tired, ill, stressed out, with lots of packages, too much food, driving too fast, going shopping late at night and too little time. They aren't going to know about my Christmas organizing ideas.

I like to go into the Christmas season rested, feeling great, with my car in good shape, my bills paid up, my gifts bought weeks before and fitting in a very small box.
So that is what I do.

A Happier Man

›
Why Get Organized
› Christmas Organizing
The only way I could become the happier man I am today was by leaving my wife.  You might be in the same situation I was in.  I suggest you take a look at my book - Leave Your Wife & Become a Happier Man with the 3 Step System.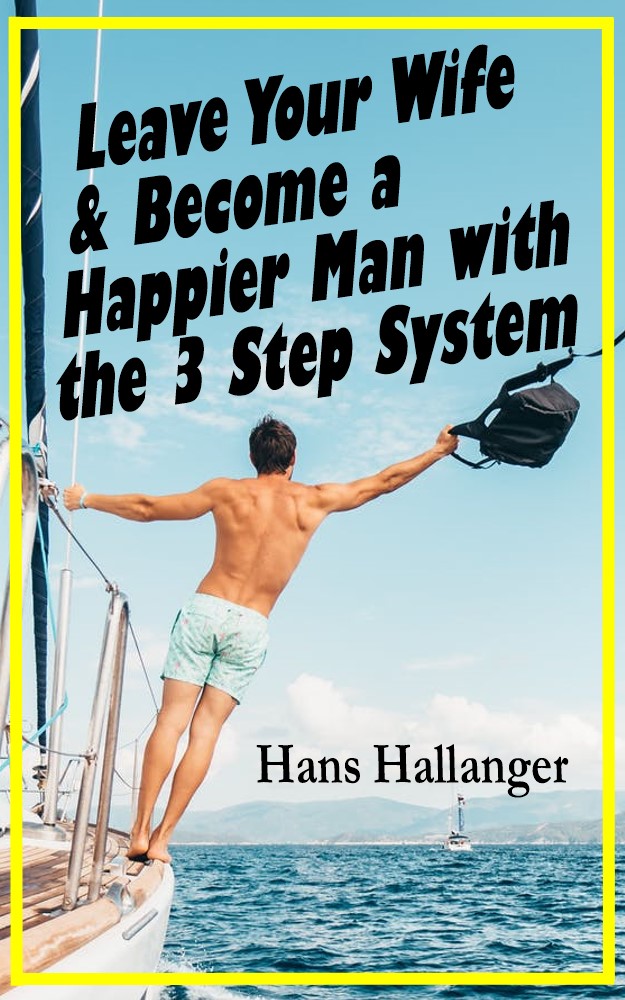 Click to go to learn more about the book
Share a Comment About This Topic.
Do you have a comment about this or something to add? Share it!