Verbal Abuse of Men
It's Just as Horrible for Men as it is for Women

The verbal abuse of men is a horrible situation.  It is not just women who are verbally abused, men are too.
Verbal abuse will ruin your life.  You have no control over your life.  No real happiness and contentment.  Only brief moments of good while waiting for another another episode of bad.
Your wife uses sarcastic remarks to cut you down.  Not only privately, but publicly.  Not only in front of her friends, but your friends and family. Maybe even in front of your own children.
Your wife mocks and humiliates you.  She screams and yells to get her way.  She finds fault with everything you do.  She can lecture you for hours on what you're doing wrong.
You tolerate the abuse.  You smile even if you are miserable.  You put on an act.  You just try to be tougher and stoically deal with it.  You go to work early and stay late.  You find excuses to avoid her.  You tip-toe around her and try to make her happy.  You're exhausted from working hard to please her, but she's never happy.
You certainly have given up all hope of ever having your life go the way you want it to go.  A happier man lifestyle is the farthest thing from your mind.  You are just trying to survive.

Video of One Terrible Type of Verbal Abuse of Men That Is Impossible to Deal With

She would throw a raging fit, screaming insults and stomping around, if I asked her why she bought something we already had.
If I disagreed with her, especially in front of someone else, she would fly into an unbelievable rage later, in private, scorching my ears with obscenities until I groveled an apology.
She would cruelly save up a verbal abuse barrage for long drives where I was trapped while driving.  Sometimes with our little children in the back seat listening to her while I just stoically absorbed her venom.

She called me names like she was a school yard bully; Gay, fat, stupid, lazy, smelly, pathetic, idiotic, a loser, a man with no backbone, not a man and a bad example to my son.
---
From Ann Silvers, MA

 Signs of a Verbally Abusive Wife
Quotes -
Verbal abuse of men by women is probably as common as verbal abuse of women by men.
Verbal abuse ranges from rageful yelling to passive-aggressive silence. It can be in-your-face bullying or performed in a more backdoor subversive way.
---
Abusive Tactics, Traits and Types of Verbal Abuse of Men

Constant nagging
Argues in front of a child
Exaggerated sense of entitlement
Exaggerated sense of self-importance
Isolates you from family and friends
Repeated questioning
Disparages your relatives
Disparages your friends
Violates your privacy
Makes disparaging remarks about you
Causes you to be chronically late
Denies their own abusive behavior
Contrasting public and private behavior
Prevents you from sleeping
Treats  you as a slave
Frequent and inappropriate displays of anger
Coercion by threats
Chronic rage or anger
Engages in melodramatic behavior
Blames you for their behavior
Repeated attacks on your self-worth
Seeks to control everything and everyone
Often threatens to get their own way
Ascribes their own conduct, ideas and impulses on you
They are accomplished actors
Causes public humiliation
Selfish and arrogant
Lacks genuine remorse
Erratic mood swings
Embarrassing public behavior
Hostility while in any form of transportation
Treats other with contempt
I found myself on the receiving end of most of the above along with a few others.
She would make embarrassing scenes in public by treating other people and me extremely rudely.
She sarcastically demeaned my very nature and some of the qualities I am most proud of:  keeping my cool, being professional, being clutter-free, being quick, hustling and working hard.
What Can You Do About the Verbal Abuse of Men?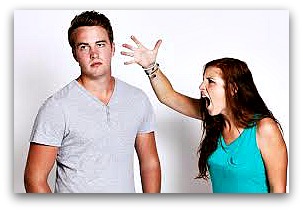 You don't know what to do about this either.  Your wife is long past the point where you can calmly discuss your concerns.  Who else can you talk to?  You're too embarrassed to tell anyone.  She has isolated you from friends and family anyway.  Why would anyone believe you?  Aren't you supposed to be a man who is in charge of his life?
The mainstream doesn't help with it's constant portrayal of overly domineering women bossing their husbands around.  Religious pressure to stay no matter what and societal pressure to  "man up" and deal with bad circumstances seeps into your consciousnesses too, clouding your thoughts on how you should live your life.
It's almost like no one thinks you matter at all. 

Fear over the finances and what will happen to to the kids is there too, usually in an overwhelming way.

The Only Solution

The only way to deal with verbal abuse in a marriage is to leave your abuser.  No other solution will work. The problem is that leaving a verbally abusive women will be a terribly difficult ordeal.
If your spouse is so abusive to you that you are considering leaving, they will not make the actual leaving easy.  This will not be a Hollywood movie or TV show where you walk into your house, announce you want a divorce and your spouse says "Yeah, so do I.  Let's split up amicably and still be friends."
No, it will be incredibly difficult.  She may ramp up the abusive pressure and may even become violent.  She certainly won't calmly accept your decision.

That's why I wrote the book - Leave Your Wife and Become a Happier Man with the 3 Step System - to help you understand the incredible harm she is causing you, what you can do to start to prepare to leave and what you have to look forward to in the future.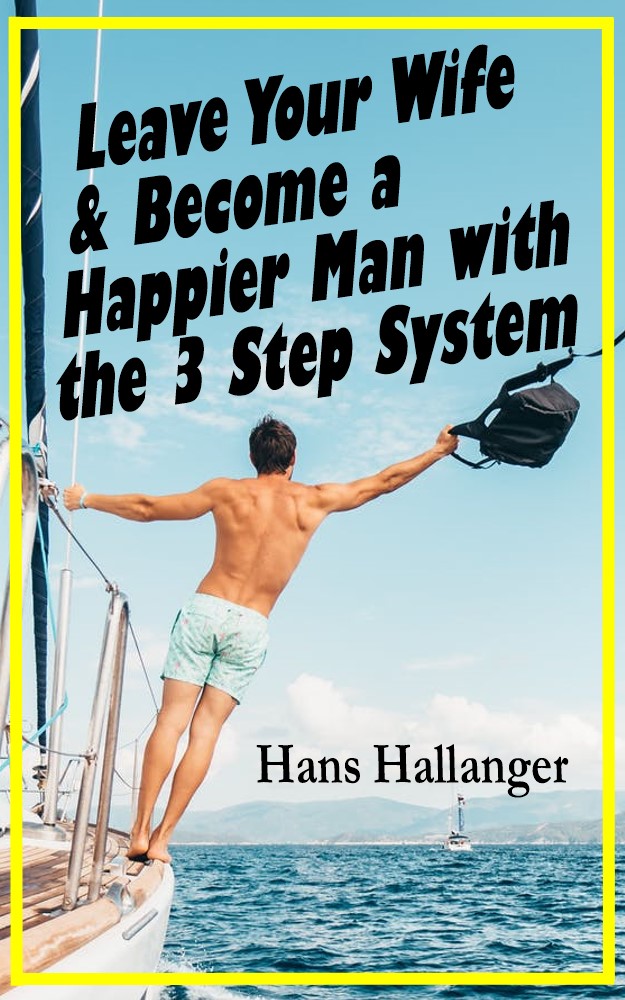 Click here or on the book to learn more about the book
But I would caution you to not think about the future too much other than the torturous life you will have if you stay.  You will not be able to get everything figured out before you leave her.  The best thing to do is learn what you can from my videos, articles and books and other resources, make some preparations and then leave.  You can start figuring out the rest of your happier life after that.
Trying to have it all figured out before you leave is nearly impossible because so much of your thinking is based on surviving the abuse you are suffering under.
Once you get away from some of the abuse you will begin to heal. You will begin to get stronger.
While you are in a marriage and under the abuse, what you need to do is concentrate on yourself. Concentrate on doing whatever you can to feel good about yourself. Look for ways to stand up for yourself. Look for ways to enjoy your life in spite of the abuse. Just because you are suffering does not mean you cannot enjoy some parts of life.
It is your life and you need to decide for yourself whether to stay or to go.
Verbal Abuse of Men Wrap-Up

Verbal abuse is cruel no matter who does it.  The verbal abuse of men is not discussed nearly enough.

If you continue to stay with a verbally abusive wife, your life will continue to be a living hell.  It will not get better, it will get worse.
Your only hope is to leave. 

You May Also Might Want to Read These Verbal Abuse of Men Articles

A Happier Man
› Verbal Abuse of Men
The only way I could become the happier man I am today was by leaving my wife.  You might be in the same situation I was in.  I suggest you take a look at my book - Leave Your Wife & Become a Happier Man with the 3 Step System.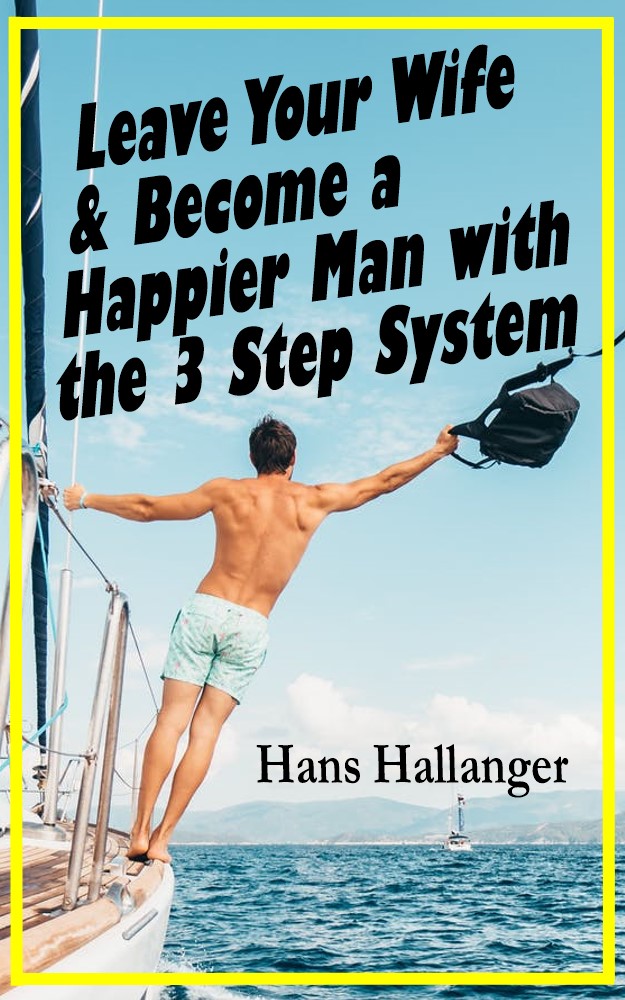 Click to go to learn more about the book
Share a Comment About This Topic.
Do you have a comment about this or something to add? Share it!