Leave Your Abusive Wife

You have to leave your abusive wife to have any chance at all living a good life.
If you're living with a verbally abusive wife or even a physically abusive wife, you have to consider the immense damage she is causing you.  Your life is a mess and you know it, but you don't think there is a way out.
There is.
Even if you are living through the kind of hell I was as I describe from my book -
Is this the type of relationship you have? Your wife always coming at you, finding fault with everything you do? Leave your abusive wife and have a chance at a happy life
Some of the Verbal Abuse I Endured

Excerpts from Chapter 6 of Leave Your Wife & Become a Happier Man with the 3 Step System
I did not want to write this chapter or most of the next either.  I debated it with myself, for years.  The memories flood back and I curse a goddamned God who allowed this to happen to me and a world where anyone is abused like I was.
The old pain shock waves through me as I reviewed my old notes to write this chapter.  I am almost shaking as I think of the abuse I endured and the wasted years of my life.
But I must share it with you hoping you do not have to suffer dealing with anything like this any longer.
I hope you can promise yourself that you will do whatever it takes to leave a woman who treats you this way.
These are but a small sampling of the extremely painful episodes I endured.  Rereading all this, I do not even know why I am here now.  I could just as easily have killed myself to get out of the extremely horrible situation I was in.  This kind of treatment of another human being has no place in the world.  None. 
She called me names like she was a school yard bully:
Gay, fat, stupid, lazy, smelly, pathetic, idiotic, a loser, a man with no backbone, not a man, a bad example to my son

She would throw a raging fit, screaming insults and stomping around, if I asked her why she bought something we already had.
She would make embarrassing scenes in public by treating other people and me extremely rudely.
She sarcastically demeaned my very nature and some of the qualities I am most proud of:  keeping my cool, being professional, being clutter-free, being quick, hustling and working hard.
She would cruelly use my last name as a curse.
She mocked and ridiculed my parents.  The same parents, who birthed me, cared for me, clothed me, fed me, loved me and who I loved and adored.
She demeaned and constantly brought up my major decisions that I believed were the best for our family: investing in a rental income duplex, selling our house in the big city to move to the safe suburbs and getting a good job at a private company.
Even the little things that did not matter, she found fault with and severely criticized.  How I:
Mowed the lawn, ate, chewed my food, brushed my teeth, showered, dressed, did the dishes, folded the laundry, used the bathroom, drove a car.

She loved things much more than me.  She would harshly criticize me and falsely accuse me for any perceived damage to her things:
 ·      How hard I applied the brakes
·      That I fog up the van windows
·      That I made the bed sag
·      That I made the chairs creak
·      Damaging the van molding when I would get in and out
·      Throwing away her things
·      Breaking a glass vase
·      Scratching a garbage can
·      Using too much toilet paper
·      Problems that she caused
There was always a sarcastic disagreement and eye rolling with whatever I said.  She would say that      I was not a man.    She constantly questioned everything I did.  She would lecture me for hours.  Sometimes the lectures would be all night long.    Sometimes she would scream at me and have raging fits.  She humiliated me in front of my children, the kid's teachers and coaches, her family, neighbors, store clerks and strangers.
When I would proudly talk about an interesting project at work and how I solved it, she would find a way to criticize me for it and say I did not know what I was doing.
She was always ripping into me about how much money I made at work and the benefits and demanded that ask for a raise and better benefits.
Even if there were times she was not criticizing me, she was usually crabby and complaining bitterly about her family, her infrequent part-time jobs, her past jobs, people we knew, past wrong doings against her and the world in general.  Nothing was ever right.
She spent a lot of time talking about her old boyfriends and other men.  One day she would complain how shabbily they treated her. The next she would tell me all their good qualities and how I should be more like them.  I hated her talking about other men and asked her to stop.  I never talked about other women to her.  
She would have a lot of comments about how a real man would do things.  A real man would stand up for his wife no matter what she did or said.  A real man would make more money than I did.  A real man would demand a raise.  A real man should be able to take a little criticism.
She was always tearing into me about my appearance.  I was too fat.  I dressed poorly.  My glasses were scratched.
After she got done criticizing me, lecturing me or screaming at me, she would see that I was despondent and she would say I was taking this the wrong way.  I shouldn't be so touchy.  You're acting like a little girl or gay.
As you can see from the above, my life was an absolute living hell for years while I endured this verbal abuse.
Leave Your Abusive Wife

Leaving a marriage, no matter the reason is going to be one of the most difficult ordeals in your life.
But an even bigger ordeal is continuing to live the way you're living.  If you don't leave your abusive wife, your life will be ruined  beyond how bad it is now.  Verbal abuse will ruin your life.  You have no control over your life.  No real happiness and contentment.  Only brief moments of good while waiting for another another episode of bad.
You don't know what to do about this either.  Your wife is long past the point where you can calmly discuss your concerns.  Who else can you talk to?  You're too embarrassed to tell anyone.  She has isolated you from friends and family anyway.  Why would anyone believe you?  Aren't you supposed to be a man who is in charge of his life?
---
More information about verbal abuse from Patricia Evans

This information is almost exclusively geared towards the woman's perspective.  You will just need to read it through your experience.

---
The only way to deal with verbal abuse in a marriage is to leave your abusive wife.  No other solution will work. The problem is that leaving a verbally abusive women will be a terribly difficult ordeal.
If your spouse is so abusive to you that you are considering leaving, she will not make the actual leaving easy. 
But you can leave your abusive wife, deal with the aftermath of the divorce and have a chance at a happier man life like I have found.
Leave Your Abusive Wife Wrap Up
I know how difficult it will be to leave your abusive wife.  You live in fear of her and what she will do and say.  But if you can pull together just enough courage to leave her you will have a chance at a good life.
My best help to guide you decision is found in my book - Leave Your Wife & Become a Happier Man with the 3 Step System.
Good luck to you.

A Happier Man

›
Verbal Abuse of Men Lives
› Leave Your Abusive Wife
The only way I could become the happier man I am today was by leaving my wife.  You might be in the same situation I was in.  I suggest you take a look at my book - Leave Your Wife & Become a Happier Man with the 3 Step System.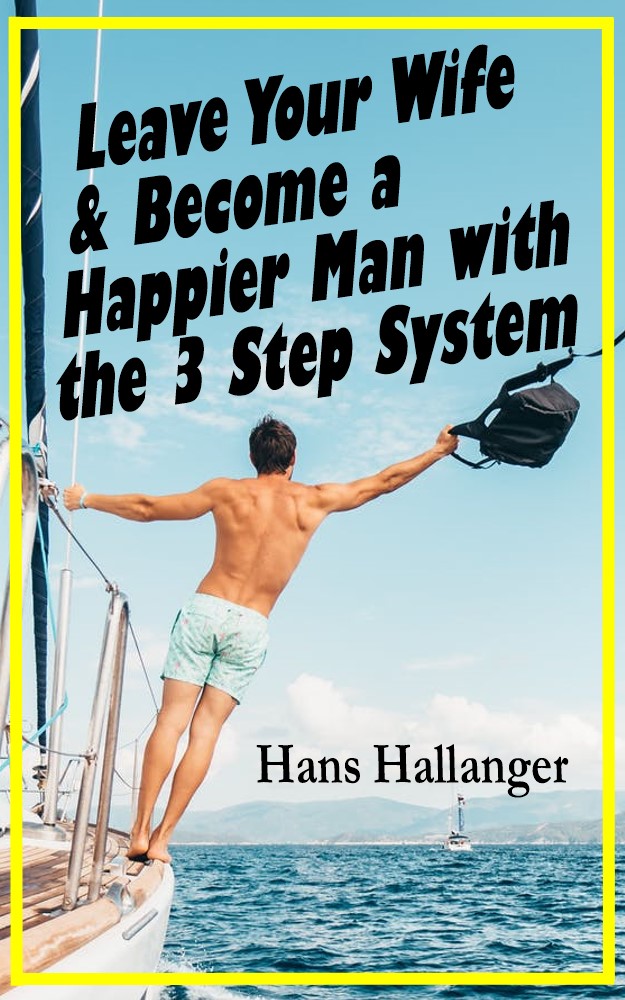 Click to go to learn more about the book
Share a Comment About This Topic.
Do you have a comment about this or something to add? Share it!