Leave Your Wife Basics
Things to Do to Get Prepared

Here are some leave your wife basics to get better prepared for when you go through with it.
The decision to leave your wife is agonizing.  Going through with it is even worse.  Use these ideas to try to help you not suffer quite as much.

As with most everything, being prepared helps.  The issue is that you may not have time for all of this. 
Some of you may need to leave immediately.  If your wife is screaming and yelling at you all the time and you don't think you can stand another minute, you should just leave immediately before you snap and cannot undo the damage.  You may not have time to do any preparation.
I should also point out that a whipped, broken man, verbally abused by his wife searching for guidance on how to leave his wife will rarely have the capacity to be secretive and strong while carrying out a bunch of extra preparations. 
Thinking you're strong and with it is a big mistake. 
She's beaten you down.  Admit it.  You're not strong, you're weak.  You cannot keep your mouth shut when questioned.  You're not in charge of your life, she is.  You're not an equal partner, she dominates your life and tells you what to do.

The type of wife that you need to leave will become suspicious any time you start acting a bit differently and are where you normally would be when she expects.  You will question what you are up to at a minimum and may even go to greater lengths to spy on you as you start to prepare to leave her.
She will sense that you are up to something and confront you.  You may not be able to complete all these leave your wife basics preparations.

A wife that you need to leave will have taken control of your life and dominates most of your life, including what little free time you have.
But you may still choose to try to get a few of these things in place to better prepare.

Leave Your Wife Basics
Create a Separate Mailing Location for Yourself

Get an in-your-name only UPS store mailbox.  A UPS mailbox has a street address instead of a PO Box.  The address looks like a normal apartment.  This is better for the other steps involved in your preparations.
Do not tell your wife you are doing this.  Do not tell your family, friends or co-workers.  Do not tell anyone except for the limited businesses you are going to be dealing with. 
This UPS store should be located in a location where your wife or people you or she know would not frequent.

I had mine in the City I worked at about 2 cities over from where I lived.  It would be very unlikely that my wife would see me or any other nosy people. 
UPS stores are usually in strip mall areas among a number of different stores.  So if someone does see you and questions you or tells your wife...your response is you were  shopping at a different store in that mall.  Make sure you know all the stores in that mall, know what they sell and have some reason to be there.
When your wife is grilling you late at night about why you were at the UPS Store, you need a readily available excuse.

It's simpler to just keep this location secret.
This will, in effect, be your mailing address home for the next few years.  I used this for 10 years for all my financial dealings.  This was where I got all my mail.  If I did any type of business, this was my address.  This is where I had stuff shipped.
Leave Your Wife Basics
Create Some Financial Privacy

Open an in-your-name only checking account using the UPS store mailbox as your address.  I would recommend a credit union rather than a bank.  I think they ask less questions.  You don't want to give them your actual home address or disclose that you're married.
You want the credit union to assume you live at your UPS store address.  Do not give them your home address or tell them you're married.  If they want that much information, leave and try a less nosy bank.

You want to put a bit of money here, but you mostly want this account set up so as soon as you file the divorce papers and you get the go ahead from your attorney, you direct your paycheck to this account and not your joint account with your wife.
As soon as you start the divorce, the court will take a huge amount of money from your paycheck and send it to your wife.  You don't want your wife to take what little is left, just what the court decides.

Also apply for an in-your-name only credit card using the UPS store mailbox as your address.  Do not give them your home address or tell them you're married.  You may only get a small credit line with this basic information.  But at least it's just yours.
This isn't for your wife's shopping sprees, it's for your survival.  You will probably get into serious debt over all of this.  But that is worth it.  You will recover.  There are ways out of debt.  Without the burden of your free spending wife, you will work your way to financial stability at some point.

Get as much credit as you can, you're going to need it.  Over time, using my UPS Store as my address, I was able to accumulate more credit to help improve my situation.

Accumulate some cash and hide it.  Don't tell anyone where you keep it...no one.
You need some money to get you through this.  But you probably will find yourself extremely broke.

Do not try to hide money from the court.  This will get you in trouble.
You just want to have a bit of the control over the money that you make.  If the money is in your bank account instead of a joint account with the wife you are in the process of divorcing, you can at least keep her from draining this account.

Obviously, you will do most of your transactions on-line, but you still need some type of bank.
It would be great if you have plenty of money, with minimal debts so a divorce is not so crippling.  But if even if you have no money, staying married to a woman who is not good to you is no way to live.

Leave Your Wife Basics
Learn About Divorce

Make a list of divorce attorneys with their contact information.
Keep your ears open for a recommendation on attorneys.
Start calling some divorce attorneys.  I would call some late in the afternoon after work on my way home.  I'd park and take notes.
Don't make any calls from your home or your work.  Keep this private.
Some attorney's will not answer a few simple questions or say anything over the phone, insisting you pay a retainer and come to their offices.
When I started my divorce the retainer was $2,500.
I hired the attorney who talked to me for an hour for free.
Spend some time educating yourself about your states divorce processes.  But you need an attorney.  The divorce is going to be very difficult since you have a difficult wife.  You need an attorney to help you.  This will cost you a lot of money.  But it will be worth it.

Leave Your Wife Basics
Research Inexpensive Places to Live

Make lists with all the contact details and prices of cheap apartments, rooms to rent by the week, cheap  hotels and family and friends.
You may want to consider living in your vehicle or a vehicle you could acquire.

---
Here are some of the best sources for learning how to live inexpensively in a vehicle.  This could be a very good option for your leave your wife basics planning.

These sources show you it is possible to live very inexpensively and have fun doing it while you are putting your life back together.

---
Leave Your Wife Basics
Ensure Your Basic Safety and Living Needs

Keep a small bag packed with toiletries and a few changes of clothes hidden in your car.
Keep a similar bag with these essentials hidden where you work.
Each bag should have enough basics to tide you over for a week or so.  Don't forget about any prescriptions, contact lenses, extra eyeglasses.
Think of these 2 bags as if this is all you have to start over, because you might have to.
Keep your car fully gassed up and maintained.  It would be best to have a larger vehicle in case you need to sleep in it at times.
And have your own car.  In the months leading up to my wife leaving she told me she thought we should only have one car.  That would have been a huge mistake.  Each adult who drives needs a car.

Have a supply of protein bars, store able food and water in your vehicle and where you work.
Know how to get to a safe place, such as family and friends you can lean on without maps or GPS.
Have your own cellphone, computer, password protect everything.  Don't let her have access to anything you do electronically.  You may need to create additional email addresses only you know about.  You may need another cell phone.

Leave Your Wife Basics
Your Wife Will Be Suspicious

No matter how carefully you try to do these preparations, your wife will sense that you are up to something.
You are a broken, whipped, verbally abuse man under the thumb of a dominant wife. 
Your wife might start to escalate how poorly she treats you and force you to leave earlier than you planned.
You are not going to be cool and strong and with it.  That comes later, after you have started putting your life back together.
Just spend a bit of time trying to get a few of these things put together.
If she is very smart, she will sweeten up and make you question whether you should leave.  Don't fall for that.  As I describe in my book - Leave Your Wife and Become a Happier Man with the 3 Step System - my wife would sometimes be very nice, loving and supportive, almost making me forget how terrible she was not that long ago.

Leave Your Wife Basics
What to Avoid

Do not have any more children.
Avoid any more debt.
Do not get a big raise at work.
Do not change jobs.
Do not buy anything big - houses, cars, vacation homes, trips, home remodeling, appliances,medical, dental, etc.
Do not have an affair.

Leave Your Wife Basics
Think About When to Leave

The timing is never to going to be right.  But some times should be avoided.
I would avoid leaving:
If your child is a very young baby.

During the holidays.
In the dead of winter.
During the school year.
I think the best time is in the summer when the kids are out of school.

Leave Your Wife Basics Wrap Up

I hope you don't have to use any of these ideas.  I hope you have a wonderful, loving, supportive wife.
But if you don't.  If your life is a mess because of being married to the wrong women, think about these ideas and check out my book - Leave Your Wife - before it is too late for you.

A Happier Man

›
Verbal Abuse of Men
› Leave Your Wife Basics
The only way I could become the happier man I am today was by leaving my wife.  You might be in the same situation I was in.  I suggest you take a look at my book - Leave Your Wife & Become a Happier Man with the 3 Step System.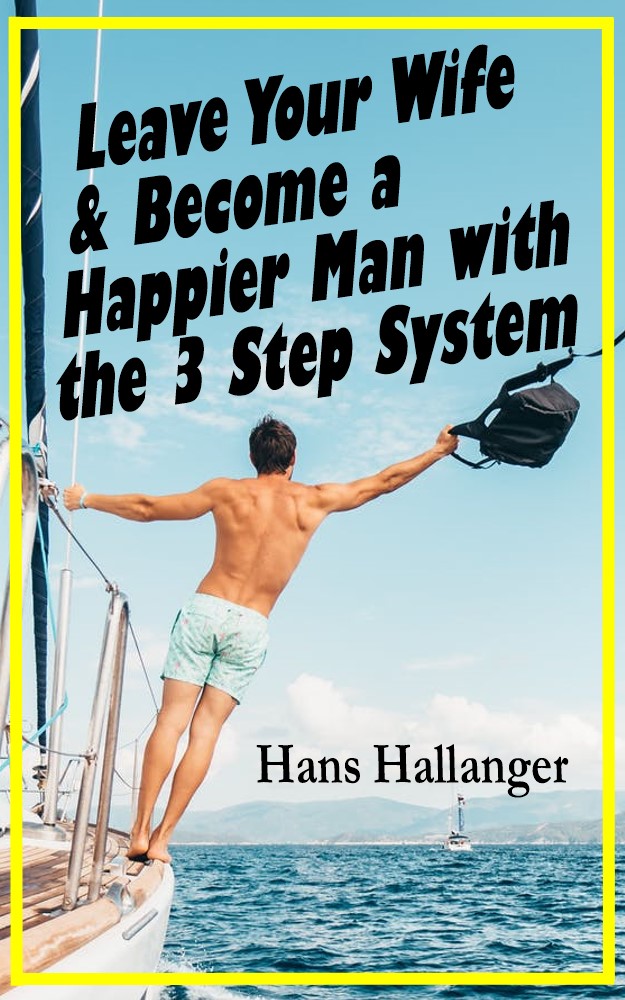 Click to go to learn more about the book
Share a Comment About This Topic.
Do you have a comment about this or something to add? Share it!