Happier Evenings

Happier evenings are critical to the quality of your life.  You need to shift your life away from the endless loop of exhausting work, maddening errands and frustrating chores overwhelming your evenings to a more pleasant, relaxing lifestyle.

Having good evenings most of the time while enhance your quality of life like nothing else.
Every day has an evening. 
If most of your evenings are not good, working late at work, working hard around the house, stressed about the bills, being in activities you are not interested in or even being entertained in a way you don't like, then you won't have a good life.
You need constant good things and constant pleasant evenings.  Not just occasional.

My Recent Happier Evenings

I spent a little over 48 hours away from work at a work related training.  We drove over 5 hours up to the training site the first day, spent all the next day at training and drove back to work the 3rd day in the morning.
The training was productive, the drive up and back, nice scenery and good conversation, with enjoyable stops for meals and breaks.

But the best part of the trip were the happier evenings.

First Evening

We arrived at the inexpensive rustic resort, got checked in and made calls to the other people we knew were going to be at the training.
We quickly made plans to head to a fancy supper club for dinner.
It was a good evening filled with drinks, laughter, interesting conversation, good...but expensive food, more drinks and more laughs.
I enjoy the drinking and the laughing, teasing each other, poking fun at the surroundings, joking with the waitresses more than work conversations.

We were in a back room, so we really let loose with the talking and laughing. 

I was driving, so I could not drink that much.  A few of my colleagues had my share.  I have been drunk enough in my life to know when others are in a good mood and I share in their fun.
Second Evening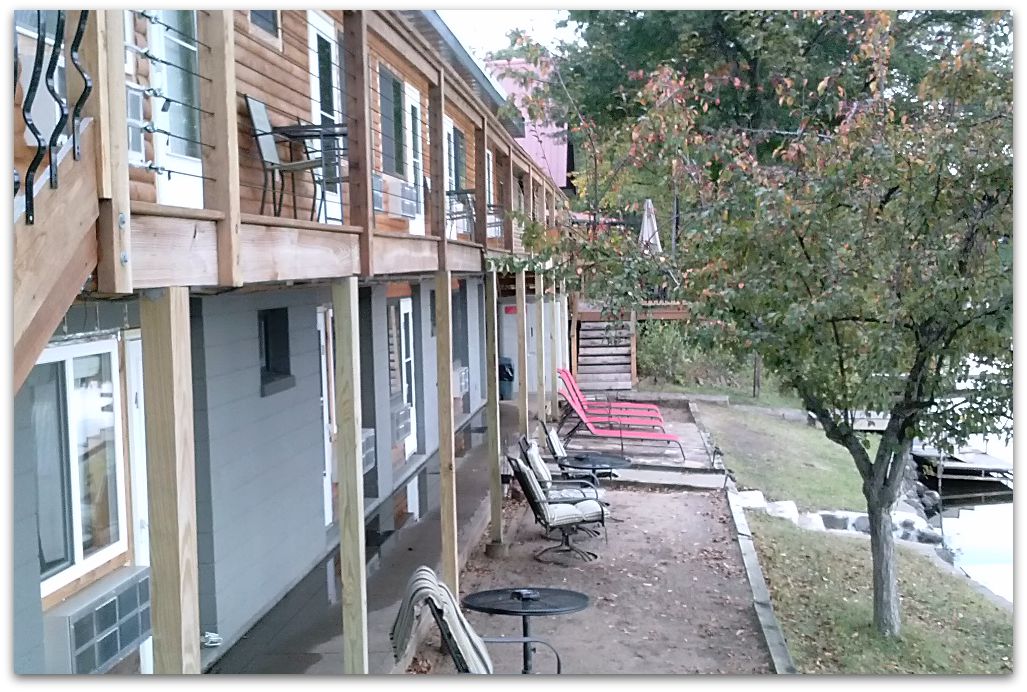 Look how close the buillding is to the lake
After the all-day training and a big early, inexpensive dinner at a local family restaurant, we went back to our resort.  Only two of my colleagues were still around this night, everyone else went home after the training. 

It was a good decision.
The three of us slipped into the free, resort provided kayaks and paddled across the glass smooth lake exploring for an hour or so.
It was my first time in a kayak and I worried about getting in, tipping over, getting out and the comfort level.
My worry was needless.  It was not that hard to get in or out and they were quite stable.  I was able to comfortably sit for an hour.
We had the lake to ourselves, just one pontoon boat motored by in the distance and the shores in front of the nice cottages were empty.
As the darkness approached we left the lake and prepared for the sunset.

Watching Sunsets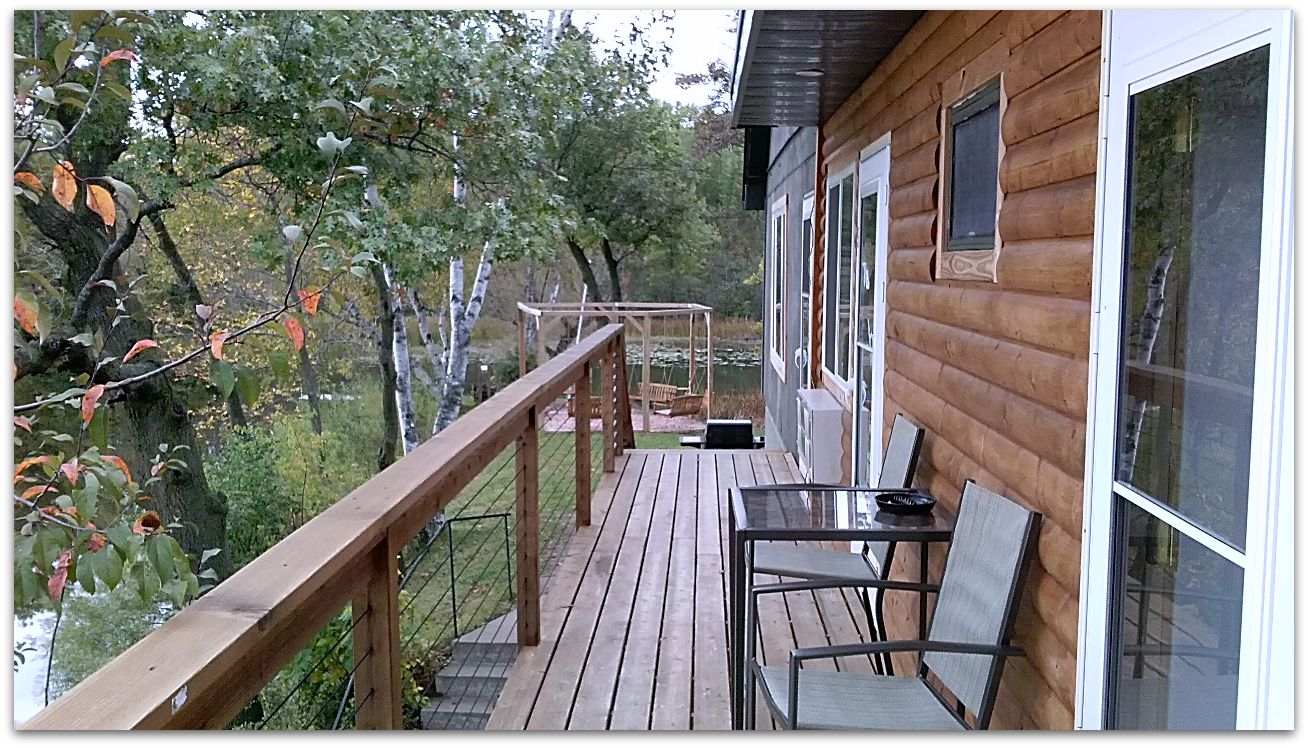 This is the deck outside my room where I could sit and view the lake
I can count on one hand the number of sunsets I have watched. 
Most of my evenings have been spent:
Glued to the TV watching something dumb.  Or,
Inside at some meeting or activity I had no interest in,  Or,
Doing homework.  Or,
At work finishing up demanding projects. Or,

Working like a fiend around the house being barked at my wife.  Or,

So exhausted I would be sleeping in a chair.  Or,

In some location I could not even see the sunset.
I have read a lot of interesting bloggers describing how watching the sunset is an event for them.  I always thought...that' nice for them, but it wasn't something that I would have time for.
But life is what you make it and if watching sunsets makes you happy...watch sunsets.
The common theme to enjoy sunsets includes:
Living or visiting places that have good sunsets.
Organizing your evening so you can be outside and facing the sun at the correct time.
Not being so exhausted that you fall asleep.
Not being in front of the TV.
Having a clear enough mind to just sit and watch rather than be worried about other things or rushing around to do them.
Having someone or something with you like a nice drink, a snack, maybe something to write with to keep you occupied while you are waiting.

Slowing down your life enough in the evening to do it.

---
Per List 25 -

The 25 Best Places to Watch Sunsets
You need to be in places that have good sunsets to enjoy them the most. Facing west, of course, without something blocking your view.  The sun over water, mountains or through clouds.

---
Here is My Happier Evenings Sunset

I spent the better part of an hour alternating between sitting on the resort deck chairs or around the campfire ring swinging chairs enjoying the setting sun with a cold beer by my side and thinking how much happier my life has become.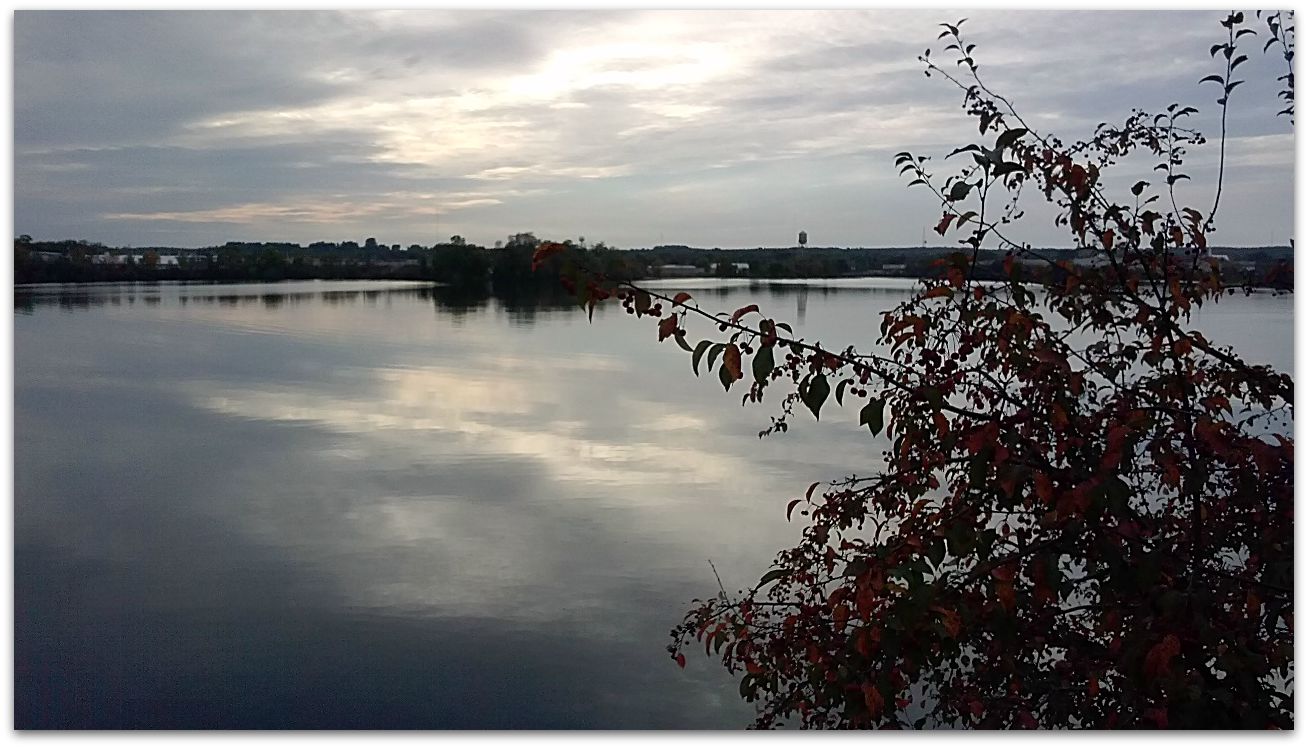 Here is the view from my rooms west facing deck over the lake
I did find it a difficult to just watch this sunset.  I have so many decades of pushing myself or being pushed to be productive all evening.
See if you can relate:
N

ot wanting to miss a good show.
Getting the laundry done.
Getting the dishes put away.
Reading more self-help books.
Working in the yard until dark.
Working on a home remodeling project.
Re-organizing stuff I had no desire to deal with.
Finishing some tasks at work.
Going to bed really early because I am exhausted and have a big day at work the next day.

I Still Do Not Have all the Happier Evenings I Want

This is a work in progress for me.  Many days I am so exhausted I am in bed before the sun sets.  Some evenings I am rushing to complete all the chores around the house.  Some evenings I feel I need to be reading, researching and writing more and being irritated that I am not more productive as I am nodding off with my laptop on my lap.

Even worse are the evenings where I sit and do nothing but worry about work the next day.
But I realize that my happiness matters and I am slowly shifting my lifestyle and planning my life to include more happier evenings.

A Happier Man

›
Happier Lives
› Happier Evenings
The only way I could become the happier man I am today was by leaving my wife.  You might be in the same situation I was in.  I suggest you take a look at my book - Leave Your Wife & Become a Happier Man with the 3 Step System.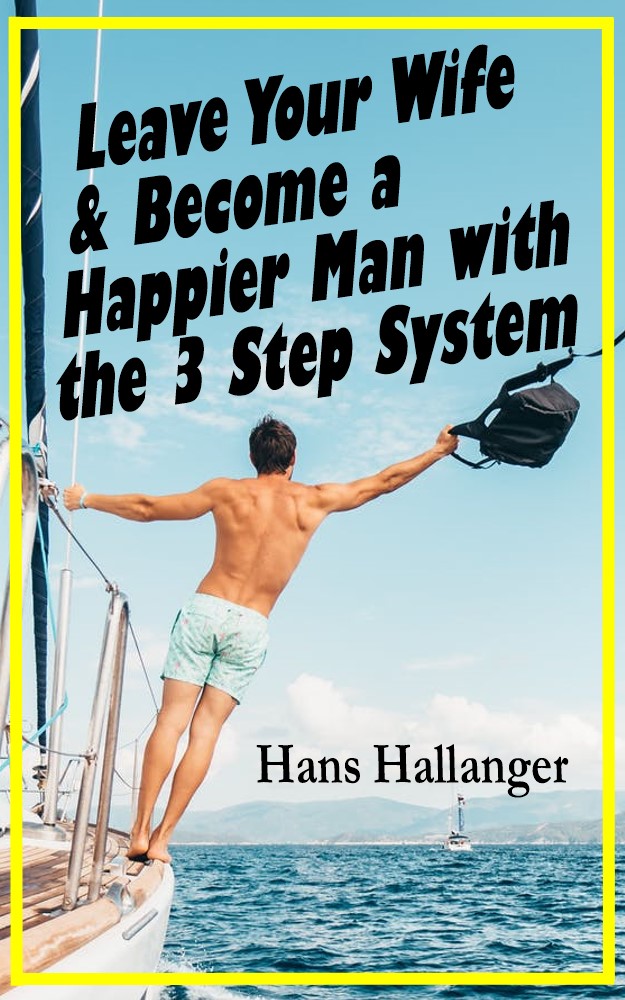 Click to go to learn more about the book
Share a Comment About This Topic.
Do you have a comment about this or something to add? Share it!