Your Happier Future

Your happier future is possible if you understand:
What you were doing when you were the unhappiest, and what you do that makes you the happiest.

Once you understand yourself, your desires, your dislikes, your dreams and your vision for your life, it is much simpler for everything to click into place.
It is not about serving others or the Lord.
Sorry.
People say that and do that, sure.  But in their misguided way they are doing what they do for themselves.

"He who knows others is wise; he who knows himself is enlightened."
Lao Tzu
"Know thyself."
Socrates
"The most important investment you can make is in yourself."
Warren Buffet
First - Determine When You are the Unhappiest for a Happier Future

See if you can relate to my life:
I had moments of extreme unhappiness.
Sometimes I was in utter misery.
I suffered boredom at school and work.
I was blamed for things I did not do.
I was manipulated into doing things I did not want to do.
I spent most of my time doing things I did not want to do.

I was yelled at, belittled, badgered and verbally abused...by my wife.

I suffered being broke much of the time.

I had long periods of stagnation
And a general low level of irritation where even if things were ok, it was not great.

It was as if my life was supposed to be bad.  I just stoically put up with bad circumstances, assuming that was my lot in life.  I took the pain.

I could not conceive of a happier future when I was just wallowing in misery, trying to survive and dealing with a never ending string of  problems.  At times I just wanted to die young.
I Had a Mediocre Life Filled With Problems, At Best.  See if You Do Things Wrong Like I Did

I

stayed around people who treated me badly.

I did not make my needs a priority.
I did not buy things for myself, spending all my money on others.

I spent most of my time doing things I did not want to do.

I thought I had to do everything myself.
I played it safe.

I thought I did not deserve happiness.
A Few Stories Clouding My Happier Future

I Was Not Happy Playing High School Basketball
I had played basketball every winter from 7th grade through my junior year in high school.  I practiced with the team.  I shot baskets before school, at lunch and at home on the weekends.  I went to basketball camps. I played pick-up games.  I did about as much basketball as I could. 
Yet, I did not get good enough to be a contributor to the team.
I hated being a poor basketball player.  I was a decent athlete.  I did very well at football.
I felt nauseous all day at school thinking about the practice that afternoon.  I felt even sicker on game day.  I dreaded the season and hated the winter.
But I never did anything about this for 5 years.  I just kept doing it, thinking it will get better.
But it never did. 

Our team even came in second at the State Championship in my Junior year.  We were on TV.  It was an exciting time for our team, our school and our City.  Yet, I did not really feel a part of the team.
I quit right before the start of my senior season.  I told the coach and he was livid with rage.  He could not believe it.
But I went from being nervous, upset and dreading the season to having the rest of my senior year be by far the best high school experience I had.  I did well in class.  I socialized.  I lifted weights after school.  I went to the basketball games to watch.  I started preparing for my happier future.
Quitting basketball was one of the best decisions of my life.
I Struggled with Social Life Problems
My early teenage years I had no social life whatsoever. 
I had a better senior year in high school but then my early college years, although good for living on my own, studying, meeting friends there there was nothing going with the girls.
I spent way too much time trying to have fun and meet girls where there were none.  I hate going out to meet girls and there being no girls to meet.  Then when there are girls to meet, being too shy, too awkward and too whatever to try to meet them.
I always have this feeling that I am supposed to be serious all the time.  Letting go and getting loose is very difficult.

I Was Not Happy At My Last Job
My first full time job had some of the quality of life type of benefits that are important, it was just too restrictive and boring to stay.

My main job that I held for 12 years had a lot of satisfaction and challenges but there was just enough irritating and frustrating episodes over the years to make it a poor job. I was put on the spot a number of times.  I was questioned about my decisions.
Then the 2008 recession affected my work severely. First there was increases in monthly health insurance premiums, size of co-pays and yearly deductibles.  Then the loss of overtime work and the pay.  Then a week long layoff each year.  Then a 10% pay cut.  Then a multi month layoff.
All this culminated with the feeling that the work I did was just a commodity that was easy and cheap to do and not even necessary.
I Always Seemed to Have Money Problems with no Abundant Happier Future in Sight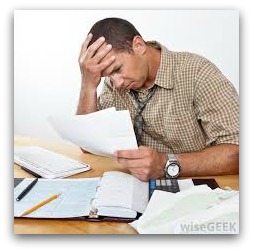 I did not much of a happier future when I was overwhelmed with bills
I was often overwhelmed with debts.  Normally I had a huge stack of bills to juggle every month with the late charges and over limit fees.  I had no reserves of savings and rarely had cash in my wallet.
It was even more of a strain when I bought a huge house in the suburbs with a gigantic giant mortgage, big utility bills, huge tax burden and miscellaneous expenses brought on by wife wanting to keep pace with the neighbors.
When I pointed out that all the neighborhood wives worked to have those fancy yards, remodeled rooms and luxury cars, she would fly into a rage and I would fall further into debt and depression.

I could not get my wife to work during our marriage.  She had extravagant tastes and loved to accumulate stuff. 
When I finally left her the divorce settlement crippled my for 4-1/2 years.  I only netted about 15% of my take home pay and had to rely on handouts from my parents to survive.

My Worst Problem was My Wife

I could not have a happier future with my wife screaming at me
What started as a nice love affair ended with me running from her.
I was berated, screamed at, belittled and manipulated.  There was no end to her fault finding.  She sometimes kept me up all night lecturing me on what I was doing wrong and how I needed to change.
There were off the handle rage attacks where I feared what would happen.  There was never ending pressure trying to please her and never knowing what kind of mood she would be in.
Of course there was constant financial pressure from her buying extensive gifts for her family, storage containers and units to hold more of her stuff that she would not part with.
For A Happier Future You Have to Keep Making Changes in Your Life Until You Feel Good

Of course my life sucked.  When I just tolerated my life, how could it get better?
I did not start toward a happier future until I changed my mind about tolerating these poor situations and took action, sometimes massive action, to get out or away from them.
You may have to totally eliminate something or someone from your life.  Don't be afraid to quit a job or a marriage.  Be impatient and intolerant of bad circumstances.
This is your only life you know.

When you feel bad, that is the sign that you need to make changes.  It may be a mental change, a physical action, a location change.  You need to do something to relieve that feeling.
Second, Determine When You Are Happiest for a Happier Future

Find common themes that create happiness for you. 
Some of mine are
Spending my money on me and my life.
Dreaming about how I would spend larger sums. 

Focusing on feeling good.
Minimizing time spent with people I don't like.

Avoiding feeling guilty for liking the "wrong" things. 

Doing something every day that I really like like reading my favorite bloggers and searching the internet for more good things.

Taking better care of my health.
Relaxing and recharging often.

Money is Important.  I Like

Lots of money in my wallet.
My bills were under control.
A low debt load.
I especially like to spend time writing out and planning what I will do with larger amounts of money.  It is not just idle dreaming, it is future planning.  Spending lots of money takes a lot of time and effort.  You need to figure out how you are going to work a lot of money into your life.
It helps you to plan out how you would spend large sums of significant money.  Not just $50 or even $500.  But $5,000 or $50,000. 

You will find it takes a lot of time and effort to spend a lot of money.

Plan it around your normal schedule.  It can be an exhausting process.  Your normal life takes quite a bit of time.  How can you squeeze in spending a lot of money?

Actually plan it out without it totally changing your life, quitting your job, staying up late or getting up early.  Just work it in your normal life.

I love doing this exercise.  I can just sit with with my feet up with my coffee and pad and pen and write up what I would do with large sums of money.

Plan to be rich.  It is more fun than planning to be poor.

Feeling Good is Key

It really makes no sense to focus on feeling bad.  It is victim hood at worst and dis-empowering at best.
What you need to concentrate on is continually shifting your focus to feeling good.  Then doing those things that make you feel good as often as possible.
Normally this should not be so difficult. 
Some simple things for me are

Getting plenty of sleep.
Taking a nap if I need one.
Getting up early to read and write before work.

Staying well hydrated.

Working out...but not so hard that I get hurt.
Going out for a meal or coffee.  Let someone else take care of me.
Going to a movie in a theater.
Just relaxing with my feet up.

Sometimes I Like the Wrong Things
Drinking with friends...and strangers.
Flirting with girls and getting to sex quickly.
Yes, many people would not approve of some of the things I do.  But I feel no guilt for having fun.

---
From Victor Pride at Bold and Determined
Self Preservation for Smart People
Happier future quote from that great article -
"In that future you will wish you had the 3 best things in the world: health, wealth and relationship happiness. You will also want the time and freedom to enjoy it all."
---
Last Thoughts on a Happier Future - Find the Common Themes Between What You Love

I keep trying to find the commonality between the websites I love, the bloggers I follow, the books I read and the people I admire.

I believe that what I truly like and admire most is people who are spending most of their lives doing what they want.  Their happiness shines through.  They are involved in careers, businesses, hobbies or activities that make them happy and they write about that experience.
They inspire me to keep going after my dreams.

Focus on these happier future videos rather than bad news

Create a life of possibilities.

A Happier Man

›
Resilience
› Happier Future
The only way I could become the happier man I am today was by leaving my wife.  You might be in the same situation I was in.  I suggest you take a look at my book - Leave Your Wife & Become a Happier Man with the 3 Step System.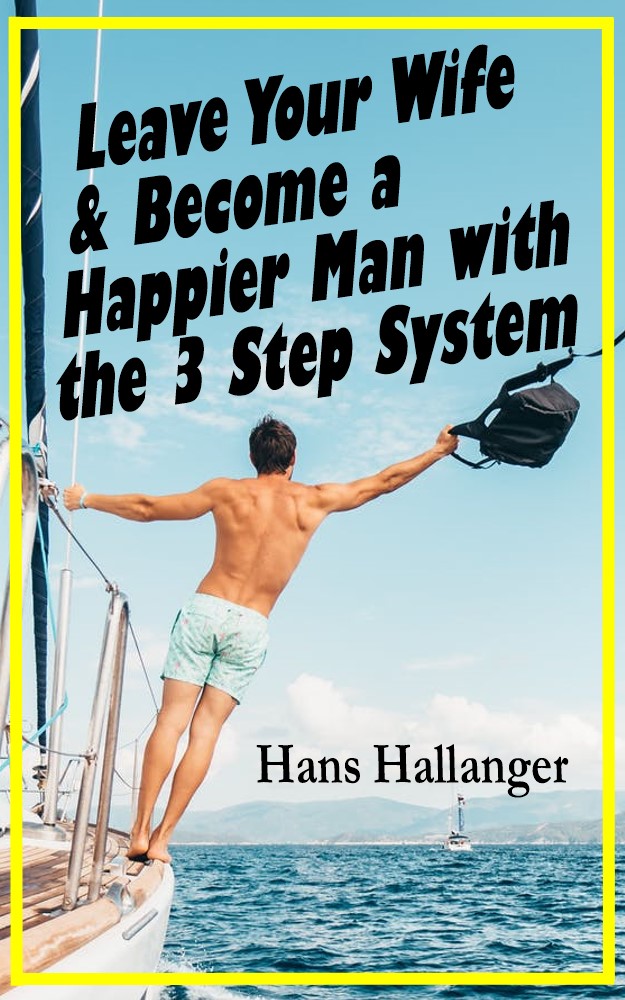 Click to go to learn more about the book
Share a Comment About This Topic.
Do you have a comment about this or something to add? Share it!