Happier Man Bathroom

Your happier man bathroom should be set up in a way that serves you best.
Not for looks, although it will look good.

Some bathrooms look amazing.  But if you don't have room because you might bump into something or have to move something out of the way to quickly get ready, they are worthless. 
Some bathrooms look really cool with interesting things placed around.  But these types of bathrooms are nightmares to clean.  This type of bathroom is only good if someone else, not you, cleans it frequently.

You shouldn't set it up just for your guests convenience either.   You can add some touches to make it nice for your guests, especially female guests.  But it should set up in a way that is good for you first and your guests second.  It is mostly for you.  You are the one paying for it, it should be set up for you, your needs, your comfort, your ease and your happiness.
Focus on making it work for you very well and it will work for your guests too.
Happier Man Bathroom Don't s

It's always easier to not do things or stop doing things that do not work for you.  So focus on what not to do first.

Don't place sticky mats in your tub or shower.  These things make cleaning the tub very difficult.  When you remove them there is still a sticky mess on the floor of the tub that you cannot remove.

Avoid having a glass or plastic tub or shower enclosure.  They are very difficult to clean.  Use a plastic curtain on the tub side that is easily replaced and a decorative curtain on the outside that can be cleaned in the washing machine.  Another benefit is the curtain gives you more elbow room. 

 Be very careful with bleach.  Bleach will ruin your fixtures.  It will spot your clothes, mats and towels.  Plus it's hard on your lungs.

Never use toothpaste dispensers.  These become a disgusting mess.

Avoid pedestal sinks.  They look nice but there is no storage.
Don't keep your personal items out on the counter.  Minimize the stuff that is permanently out.

Don't use toilet seat covers.  These make cleaning the toilet difficult and trap dust, dirt and odors.

Carpeted floors are a huge no-no.

Happier Man Bathroom Do's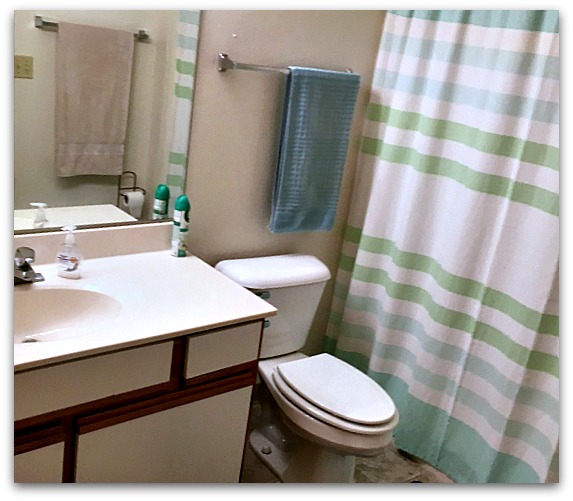 My bathroom
My favorite tips to make using your bathroom easy, comfortable and easy to clean.

Place the t

oilet paper dispenser in a comfortable location.  I hate having to twist behind me to get the toilet paper.  I like a moveable dispenser I keep in front of me that is easy to reach.

Use a disposable liquid hand soap dispenser.  This makes washing your hands easy and makes your counter always look neat. 

Multiple hand towels in a handy location.  I use as many hand towels as necessary.  They are small and easy to clean.

Have a comfortable mat in front of the sink to stand on while you are getting ready.

Big bath towels that wrap all the way around your waist.

Have an absorbent towel for the floor to step on when you get out of the shower so your floor never gets wet.

Plenty of storage with a medicine cabinet and vanity storage.

One piece tub or shower surround.  Tile is not that good with the moldy and disgusting grout lines.
Keep as much of your personal cleaning products stored away as possible.  These things look terrible sitting out.
Plenty of towel racks so your towels can air dry between uses.

Big toilets that are higher off the floor with an elongated bowl for comfort.

Easy to clean one handle faucets.
Vinyl floors are best, with large size tile a distant second.

---
Happier Man Bathroom Cleaning Tips

It's easiest to clean your bathroom often.  It's easiest to clean if you minimize the stuff you have to clean around.  Your bathroom will always look cleaner if there is not much stuff out.
From Molly Maid
10 Steps on How to Clean a Bathroom Fast and Efficiently
From Don Aslett
How to Clean a Bathroom in 3.5 Minutes

---
Some Pictures of My Happier Man Bathroom

Take a look at these pictures of my bathroom for further explanation on making your bathroom operate efficiently, be easy to keep clean and looking good.
I want my bathroom to always look good for me and to be ready for guests at any time.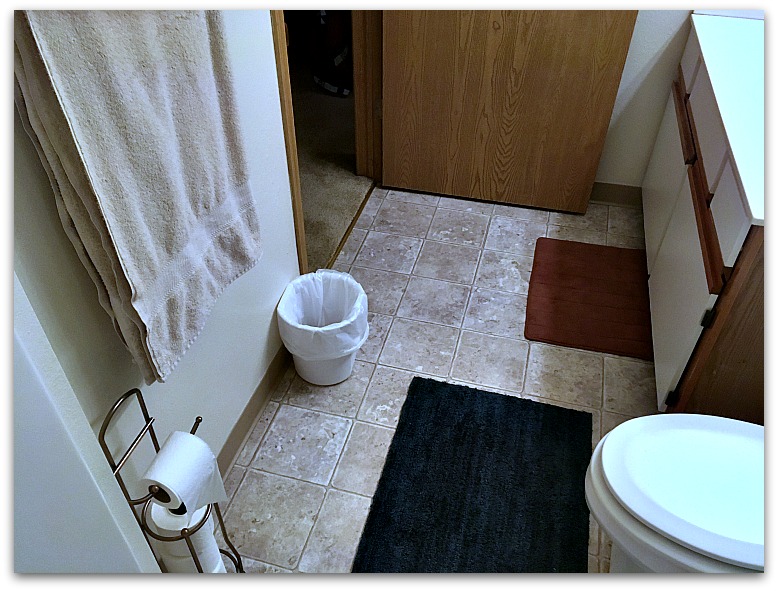 Keeping the clear floor for only the necessities. Mat in front of toilet. comfortable mat in front of the sink. Garbage can by door. Toilet paper holder within comfortable reach of toilet. Notice the large, elongated bowl toilet.

My counter just has my water-pick, hand soap and toilet spray out all the time. I keep the counter clear between uses.
It's best to keep the bathroom counter as clear as possible.  It looks better.  It's much easier to clean.  There is space to lay out the items you need to get ready.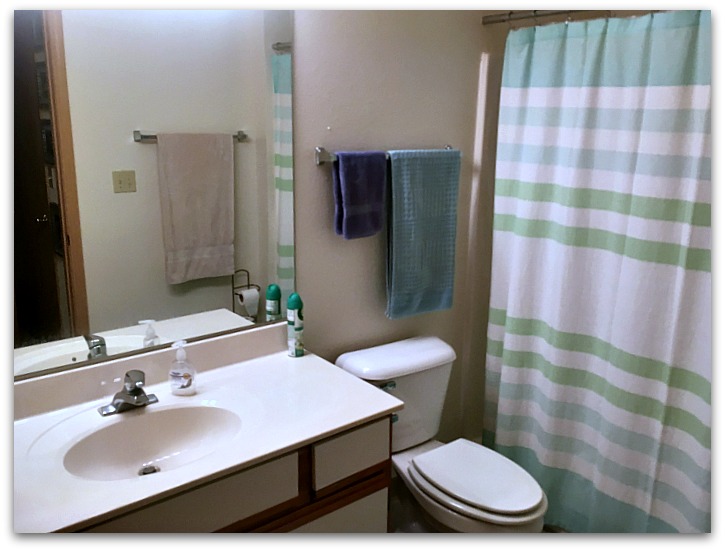 Clear counter, liquid hand soap, toilet spray, big mirror, large toilet, towel rack for hand towel and floor towel, decorative shower curtain over plastic curtain inside.
Extra supplies stored in big open space below the sink. Left side has big towels for guests and extra hand towels. Extra liquid hand soap in middle. Right side has extra toilet paper, extra bar soap, big mouthwash and scale.
It's best to keep as many bathroom supplies as possible right in the bathroom.  The bathroom of my new place as the huge bathroom vanity that swallows up a lot of extra stuff.
Pedestal sinks are quite stupid.  There is no storage.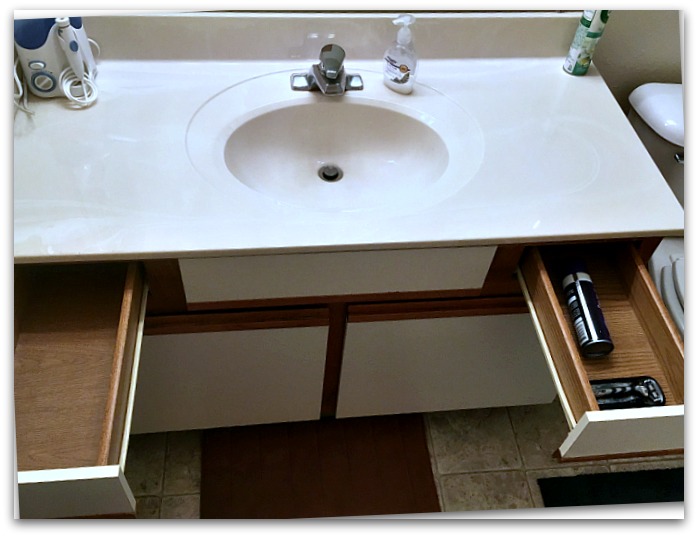 2 drawers. Right side drawer is for shaving needs. Left side drawer is open for future needs.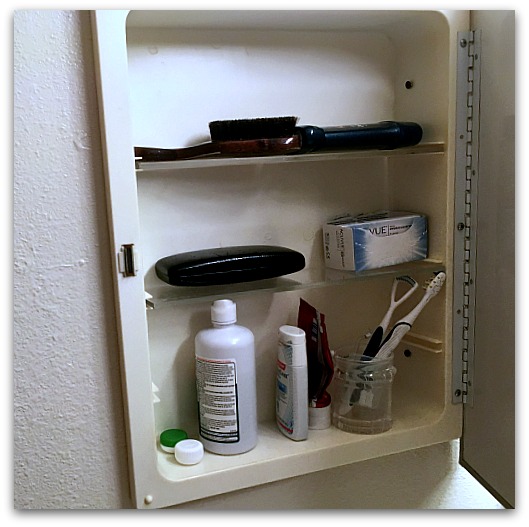 Medicine cabinet for daily use. Top shelf for hair brush and anti-antiperspirant. Middle shelf for glasses case and extra contacts, bottom shelf for contact case, contact solution and dental hygiene needs. I take out this stuff only as needed and put it back every time so my counter always stays neat.
Happier Man Bathroom Final Thoughts

Every aspect of your life should be set up to maximize your happiness, including your bathroom.
Set up your bathroom so that you can get ready for work or play in a minimum time.  It's annoying to spend a lot of wasted time getting ready because you are getting ready every day.  Some days you will be getting ready multiple times.  Life is too short to waste time on a simple task like getting ready.
A Happier Man

›
Happier Lives
› Happier Man Bathroom
The only way I could become the happier man I am today was by leaving my wife.  You might be in the same situation I was in.  I suggest you take a look at my book - Leave Your Wife & Become a Happier Man with the 3 Step System.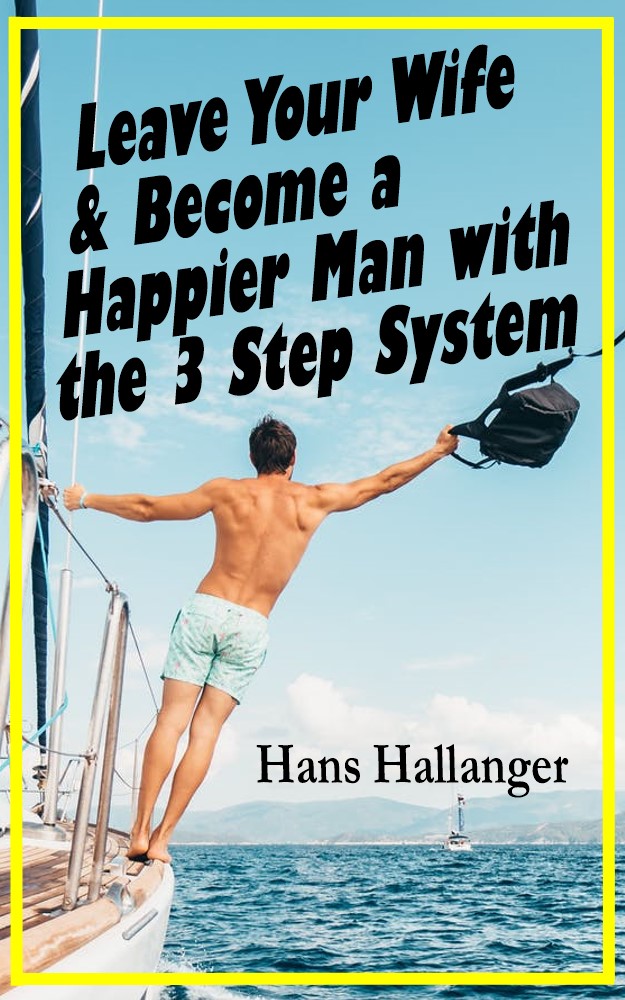 Click to go to learn more about the book
Share a Comment About This Topic.
Do you have a comment about this or something to add? Share it!