My Latest Hernia Surgery

I had another hernia surgery on September 8, 2017.  I discuss my first surgery here - My Hernia Operation
I am very happy with my first surgery from 2013.  I have had no complications.  I've done plenty of heavy lifting, both in the gym and moving heavy stuff around.  It's held together and I have had no issues.
This latest surgery was for the other side of my groin and the area around my navel.  So yes, you can have multiple hernias, requiring multiple surgeries.
My first surgeon in 2013 warned me that I had a small hernia on my left side that will probably need repair at some point.  So I made it a 4-1/2 years.
This time I did not wait for it to get so bad and so excruciatingly painful as in 2013.  I am working manifesting my needs faster and speeding up doing what I need to do.  I want my life to get better quickly rather than at a slow pace.  I want to make improvements to my life as soon as I realize something is needed.  And then do what is necessary.  I did not wait until the pain was so severe I thought I was going to die like in 2013.

Not this time.  I knew early last August that it seemed like the area on the left side of my groin was not feeling right.  So I acted quickly.
The key to not suffering is to act quickly to make changes if you can.  The flip side is that you will suffer in misery and pain the longer you delay doing what you should do for your health and happiness.
Hernia Surgery - Timeline Showing How Quickly I Identified the Problem and Solved It and a Few of the Issues that Occurred

Monday August 21.  Thinking that the hernia I knew I had was getting worse.  Contacted insurance company to get list of surgeons.  Called surgeon for appointment.  Note that I did all this in one day.  Taking care of myself faster is my priority.

Friday August 25.  Had first appointment.  Note that I was able to get in to see a surgeon in less than a week.

Sunday August 27.  Bought big screen TV to help the recuperation process.  I wanted one anyway.

Acquired supplies the week before.

Friday.  September 8.  Had surgery.  To hospital by 9:30 am.  Home from surgery by 3:30 pm.  It did not take any time at all.  It went very smooth.  I was comfortable at home.  I stayed up later watching TV.
Saturday and Sunday September 9 -10.  Took it easy at home, napping, TV, movies, internet, liquids and comfort food.  Finally had a minor bowel movement on Sunday.

Monday September 11 through Wednesday September 13.  Out of work.  I took it easy for 6 full days.  The stool softener kicked in Monday as I had numerous huge bowel movements. Did a few short, easy errands.

Thursday September 14 and Friday September 15.  Back to work for about a half day each.  Stopped prescription pain medication.

Saturday September 16.  Took a long walk in loose underwear.

Sunday September 17.  Took a long walk in loose underwear.

Monday September 18.  Worked about 6 hours.  In and out of truck looking at projects and walking around in loose underwear.  Doctor appointment to check repair area.  Everything is fine.  I did say I was sore.  Doctor said that was common from walking and being off pain medication.  My doctor said I could start lifting again 3 weeks after the surgery.  But ease into it.  Start slow and regain your strength slowly to make sure you don't strain yourself and have to start over.
Tuesday September19.  Scrotum swelling.  Bought tight underwear.
Somewhere in this time frame I stopped taking Ibuprofen.

Sunday September 24.  Swelling starting to go down.
Saturday September 30.  Still slightly swollen, but have been able to do more things.  Lifted for first time, 3 weeks and 1 day after the surgery. 

So, it was 41 days from the time I identified that I probably had a hernia until I was healed enough to start lifting weights again.
I feel great about how quickly I was able to do this.  Get the appointment, schedule the hernia surgery, recuperate and recover.  I only lost about 1-1/2 months.  And this time was not that difficult.  I still worked and I still enjoyed my life.

Why You Need Hernia Surgery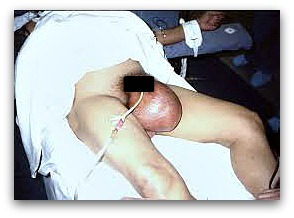 This is not me. But this is how big your scrotum might get from a hernia. It is also how big your scrotum might get after the surgery.
If you think you have a hernia, you probably do and you NEED to see a surgeon.  Waiting does not help.  Time is not your friend when you have a serious condition that will not heal on it's own.
Don't listen to people who say to use a truss, or don't lift anything heavy.  Some people are not interested in you living a good life or are so fearful that they cannot even encourage others to take care of themselves in the proper manner.
Do what you need to do for yourself.

---
From Health Grades

Reasons Not to Delay Hernia Surgery
Hernias will not go away by themselves.
Hernias may cause a serious health problem.
Hernias always grow, never shrink.
You will require hernia surgery at some point.
Hernias will affect your overall health.
I found all this out by myself.  My hernias got bigger over time.  I did require surgery to fix all of them.  They did not go away.  My hernias affected my health.  I was very limited in what I could do.  I could not exercise or even walk that much.  They caused me to get depressed and overeat to compensate.  The only way you will escape needing hernia surgery is if you die before you get it taken care of.

---
What to Buy Before and Right After Hernia Surgery

The pain medication your surgeon prescribed

I took the medication as directed for the first 3 days.  The first day is usually the worst.  The pain gets better daily as long as you can avoid over straining or stressing yourself and not moving around too much.
Over the Counter Pain Medication

The extra over the counter pain medication your surgeon recommended.  This will usually be Ibuprofen.  I took 600 mg every 6 hours for the first 6 days.  Normally each Ibuprofen pill is 200 mg each.  So you need to take 3 pills to get the 600 mg.

A stool softener, like Mira lax

The surgery and pain medication will bind you up quite a lot.  I cleaned myself out on the Thursday before the operation with bad diarrhea, not sure why.  Then I did not have bowel movement until Sunday.  I felt like my belly was about to explode. Like I had gained 20 pounds.  Finally on Monday the stool softeners kicked in and I had a lot of massive bowel movements throughout the day.
Bottled water and Food

Soft foods that you like.  I had jello, pudding, rice pudding and yogurt. 
Get the type of comfort food you like.  You will probably bust your meal plan.  You will have to let that slide for a few weeks while you recover.
The bottled water will encourage you to drink more.  Maybe get some flavored ones. 
You might want some of your favorite soda and juices too.
I got back drinking coffee the day after.  But I did not drink any alcohol for a few weeks after my hernia surgery.

What to Do After a Hernia Surgery

Rest
Relax
Watch TV and movies
Read
Do some light moving around
Take a stool softener
Take the pain medication

Don't walk too far
Don't drive for the first few days

Take naps
Wear supportive underwear.
Wear loose, comfortable clothing
Don't lift anything heavy

You need to understand that you need to limit what you do for a few weeks.
The first week I did limit what I did and felt good.  Not so much the second week.  I over did it and suffered for it.  So, don't do too much.
What You Need After a Hernia Surgery

Pain medication
Hernia surgery hurts. Take the pain medication prescribed at the times they tell you.  You may need to set your alarm to get up in the middle of the night.  I needed the prescription for about the first 3 days.  I also took Ibuprofen for about the first week.  Then I needed them both a little here and there the second week when I started to overdo it.
Right now, a little over 3 weeks from the surgery, I don't need anything.

Easy to eat food

You are not going to feel like cooking.  You won't be able or feel like going out to eat.  You won't even feel like eating healthy meals that someone else makes.
I had some pudding, jello and yogurt available.  I had my daughter go to some local places for some of my meals (Subs, Burgers, Chinese,etc.).  Some frozen pizza.  Some ready made food at the grocery store deli.  It took a few weeks before I had enough energy to cook a simple meal. 
Surgery is going to be hard on your diet or meal plan.  I gained weight.  When I did not have a bowel movement for 3 days, I felt like I had gained 30 pounds, all in the belly.  I was very uncomfortable.

Water and liquids
You need to drink plenty.  This keeps you moving around getting up to go to the bathroom and hopefully loosening up your bowels.

Comfort

Comfortable places to sit, recline and nap.  You will be tired and uncomfortable. Your belly will be big.  The area around the hernia surgery will be sore.  You will ache and feel really tough.   You need to rest and take it easy all day.  You want to be able to take naps on and off all day as you are recovering.

A comfortable bed.  This is a must for healing.  You need a bed that does not make you toss and turn all night.  You want to be able to lie on your back and sleep without waking. 

Time off from work

This is huge.  You shouldn't go back to work for at least 3 or 4 days.  And when you do go back, it should only be for part of a day.  If you have a physical job, you shouldn't go back for at least 2 weeks.

Tight underwear

The tight brief underwear will support your scrotum and help it not to swell.
I learned this the hard way.
I did not have any tight underwear as I prefer loose boxers.  I did not buy any before the surgery or right after even though the hospital told me to. I was fine the first week.  But the Saturday and Sunday after the surgery I went for short walk.  Then on Monday I was in and out of my truck numerous times checking on projects in the field and walking around quite a bit.
On Tuesday my scrotum swelled up into a football sized, extremely heavy mass between my legs.  I could barely walk, it was so huge and heavy.  I drove to Walmart early that morning to buy some tight white briefs.  I have been wearing these exclusively since.  Even to bed.
This has helped the swelling reduce back to almost normal.  I did not use a lot of icing.

Lounging Clothes
Wear loose sweat pants.  Socks that are easy to get on and off.  Loose t-shirts and loose long sleeve pullovers.  Tight pants are a mistake.  Anything tight will make you more uncomfortable than you already are.

Someone to drive you home from the surgery

A family member, friend, someone you pay or a cab or Uber.  You won't be able to drive after.  The hospital will not release you.  It is not safe with the pain medications because you will be groggy and not able to move very well.  You won't really feel like it either.
Some Help

Someone to make you or get you some food the first day or 2.  You just will only want to sit and lay around for awhile.  You aren't supposed to drive with the heavy duty pain medication.  This can be fun.  I had my daughter go to Subway for me.  Then another place the next day.  It was something I looked forward to.
If you don't have someone to help you, you could just get all the food you need stockpiled in your house beforehand.

Money

Money for the hospital bills the medication, special food, eating out. Maybe paying for some help.  I have not received my hospital bills yet.  I have good insurance but I'm sure I'll have quite a few hundred dollars of bills.

My Final Thoughts on Hernia Surgery

I was very pleased with how smoothly everything went at the hospital and the professional of all the people involved.  Including how my family helped me.
I was also very pleased on how fast I was able to take care of a major problem like this.
In the not so distant past, I would take months, or years to agonize over this, all the while waiting and suffering.
I am learning to take better care of myself and act quickly on what needs to be done.

The best thing for your life is to take care of your health problems as soon as they crop up.  Don't wait.  Act on what you need to do, including getting hernia surgery.
A Happier Man

›
Happiness and Health
› Hernia Surgery
The only way I could become the happier man I am today was by leaving my wife.  You might be in the same situation I was in.  I suggest you take a look at my book - Leave Your Wife & Become a Happier Man with the 3 Step System.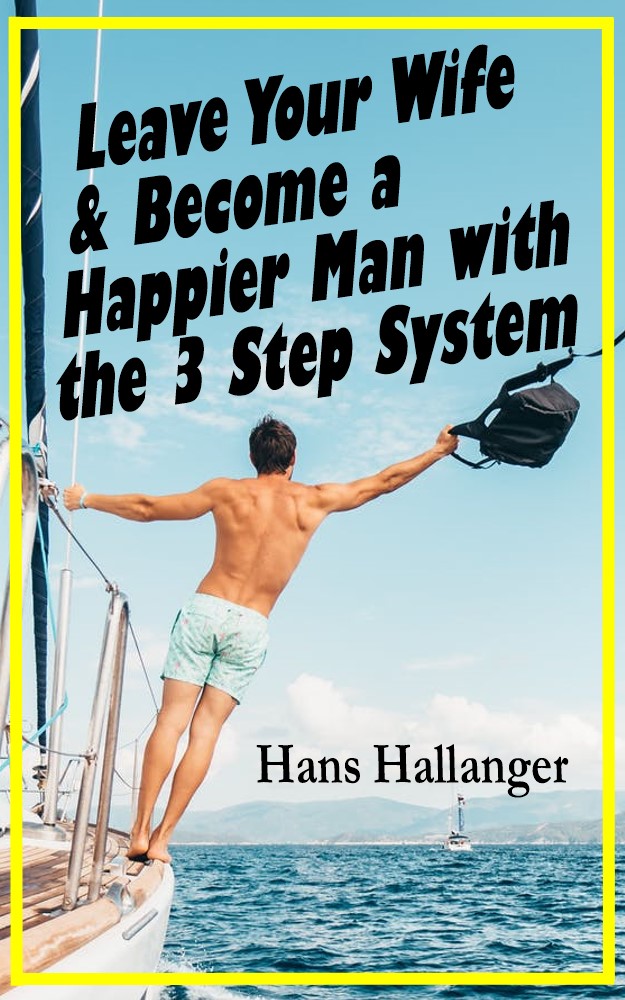 Click to go to learn more about the book
Share a Comment About This Topic.
Do you have a comment about this or something to add? Share it!