How to Nap
For Happiness, Health and Success

You need to learn how to nap.  You need to understand why it is important and most importantly, get past the guilt of taking care of yourself.
Get over yourself and your stupid puritanical work ethic that says napping is a sin, a vice, for the lazy and ill-bred.
If you need a nap to feel good, take one.
If you need a nap, because you are run-down and sick or getting sick, take a nap.
If you need a nap after a really hard workout or work day, take it.
If you find yourself on the verge of a junk food binge to try to stay awake, take a nap instead.
If you have a big belly, take a nap.  You are probably overtired, not hungry.

If you have bags under your eyes, you certainly need a nap.
If you don't sleep at least 7 straight hours a night, every night, for whatever reason.  You will need to know how to nap to keep some semblance of health.
As you can see, I am a big fan of naps.  I love to take a nap on Saturday and Sunday afternoons.  I will usually be a little more tired from the work week and the fun I had on Friday and Saturday nights.  Plus, I have some time to sleep an hour or two.
I sometimes take a nap as soon as I get home from work.  I might be tired from work or the previous days workout.  Or I might be stressed about something.  I may even leave work an hour or two early if I feel like I need to get some sleep.

It' s better to nap, than gorge on junk food.
It is not easy for most men to take a nap when we need to.  We all work long hours on the job.  Then come home to a huge list of things to do from our wives.
Since I left my wife, I never have anything I have to do for someone else. 

So I end up doing whatever I want, when I want including napping whenever I need.
It was not always this way.  If my wife caught me napping when she wanted me to do something (which was always) there would be hell to pay.  She would insist that I keep working around the house, doing all the extra things that "have" to be now.  Not later, now.

In order to avoid her verbal abuse, I rarely napped in those days.  Working 9 to 12 hour days at work.  Hustling home to do more work around the house.  Collapsing after midnight for 5 or 6 hours of sleep and getting up at the last second to race to work where I just binged on junk food to stay awake to avoid falling asleep and losing my job. 
This is why most married men look so goddamned bad with huge bellies, bags under their eyes and looking more dead than alive.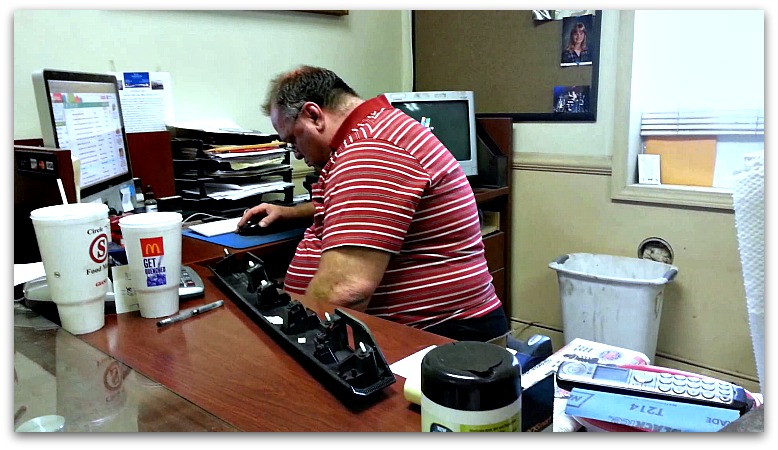 Typical exhausted man on the job. Huge belly. Falling asleep with his hand on the mouse. Giant sodas to try to stake awake. If you learn how to nap at the proper time (at home) you will not be so tired at work.
---
From the Daily Mail
90 Minutes of Sleep Enhances Learning
Another good reason to learn how to nap.

---
Now that you agree with the benefits of napping, here are a few tips on how to nap easier for people who have a hard time doing the right thing for themselves.

How to Nap in Your Bed

A bed is the best for sleeping.  But you don't want to approach a nap like going to bed.  A nap is intended for a short time. Maybe 15 minutes to a few hours.  If you take your clothes off and get totally under the covers, you are just going back to bed.
You'll end up getting too much sleep, maybe wasting your day, and certainly will not sleep well at all when you do go to bed.

Here is how I nap on my bed
With my door closed for privacy and quiet.
With the shades open but the lights out.  I want the room to be somewhat light so I don't sleep too long.

Fully clothed.  I normally relax around the house in a t-shirt and shorts in warm weather and sweat shirt and sweat pants when it is cold.  So this would be my fully clothed nap wear.  Not jeans and a dress shirt.
On top of the covers.  Not under.  I don't want to wrinkle and dirty my sheets with my clothes.  I also don't want to be so comfortable that I sleep too long.  I want the bed to stay made for later with just a minor amount of straightening needed.

With one pillow. 

Covered with a thin blanket.  I am fully clothed, so I don't need the full warmth of multiple blankets.  If you get too warm, you are likely to sleep too long.

Most importantly, guilt free.  If I was not tired, I would not need a nap.  Since my health is important to me, I feel great doing it as needed.
Your bed is good if there are other people in the living room being noisy.

How to Nap in a Recliner

I have a great big recliner.  Not only are these great for watching TV, eating, relaxing, reading and writing on a computer, they are great for napping.
You can get very refreshed with a quick 20 minute nap in your recliner.
Learning how to nap and relax in your recliner is one of life's greatest pleasures.

A quick nap is best accomplished by drinking a cup of coffee then napping.  The coffee kicks in after 20 minutes and you will wake up refreshed and ready to accomplish something. 
Set an alarm on your phone so you don't keep sleeping.  It's possible you are so tired, that 20 minutes won't do much for you.  That's why you need the alarm.
Have a thin blanket to cover you while in your recliner.  You won't sleep well if you are cold.

How to Nap on the Couch

A couch is one of my favorite places to nap.  It's better than a recliner.  You can stretch out full length, if you have the correct full-sized couch.  You can lay on your back or whatever side is most comfortable for you.  Since you are laying down, you can usually sleep almost as well as you can in a bed.
In fact, you can probably sleep all night on a couch, in a pinch.  These work great for a guest bed.

A couch works really well when you have a few hours to nap, such as when you do not feel well and need to sleep a lot more.

You definitely want to have a comfortable, supportive full-size couch.  It is the handiest piece of furniture.  It might be your only comfortable furniture until you get a good recliner.  They work great for multiple people, especially you and a girl.
How to Nap in a Normal Living Room Chair

Couches and recliners are best, of course.  But when I was married, my wife hated recliners, and would not allow me to have one.
She also would not allow me to sleep on the couch.  As she said, couches were for sitting and company.  Not for the man of the house, who paid all the bills, bought the house and put food on the table to enjoy with an occasional nap.
Ah, my freedom from her is so sweet.
But you can make use of any chair in a pinch.  Try to use something to prop your feet up on like a footstool, a coffee table, another chair or even just a box.
It is the act of stretching your legs out that makes you comfortable enough to sleep.

How to Nap at Work

If you work an office job, you probably have an office chair to sit on.
Mine is fabric covered and quite comfortable.
I sometimes take a quick nap right after lunch. I have a crate under my desk that I can prop my feet on to use as a footstool.  I keep an extra fleece sweatshirt at the office to use as a blanket.  I sit with my butt right at the front of the chair, with the top of my back on the top of the chair.  I have my feet on the crate.  I can usually sleep for 15 to 20 minutes this way.  This is not that comfortable or good for your body if you sleep too long.  But this tends to refresh me quite a bit.
How to Nap in a Car

Taking a nap in your car can be quite invigorating to break up a long drive or if you just need to while you are busy doing other things.
A bigger vehicle here helps.  I can sleep quite well in my 1/2 ton truck.  The back of the seat reclines very far down.
You will want to park on a flatter area and in a spot where people are not going to be walking by and bothering you.  Don't park in the front part of the parking lot at a busy store or right in front of the rest area building.  Park at the rear of the lot or farther away from the building.
Lock your doors, of course.
Keep the temperature at a nice level.  If it is hot, park under a tree for shade and crack some windows.  If it's cool or cold have a blanket handy to cover with.  Sometimes just placing a towel or your coat flipped over you works well.
It would not hurt to prop your head with a small pillow or rolled up towel or article of clothing.

Final Thoughts - When Not to Nap

Even if you are dead tired, there are certain times when napping is not going to be good for you.
Don't take a nap in the evening close to your normal bedtime.  You will end up sleeping for hours and ruin your normal nighttime sleep.  It's better to do something else easy and relaxing in the evening to keep awake until closer to your normal bedtime.  You can always just go to bed an hour or two earlier than normal.
Don't take a nap at work if doing so will get you in trouble.  Most bosses are not that happy to see you enjoying a nap.  So be careful.  You should do this at your normal lunch time, not earlier or later.
But overall, you should keep making changes in your life so you can nap when you need to and keep healthy and energized.  You will always feel terrible if you are not well rested, in spite of what "they" say about napping being a waste of time.
A Happier Man

›
Happiness and Health
› How To Take A Nap
The only way I could become the happier man I am today was by leaving my wife.  You might be in the same situation I was in.  I suggest you take a look at my book - Leave Your Wife & Become a Happier Man with the 3 Step System.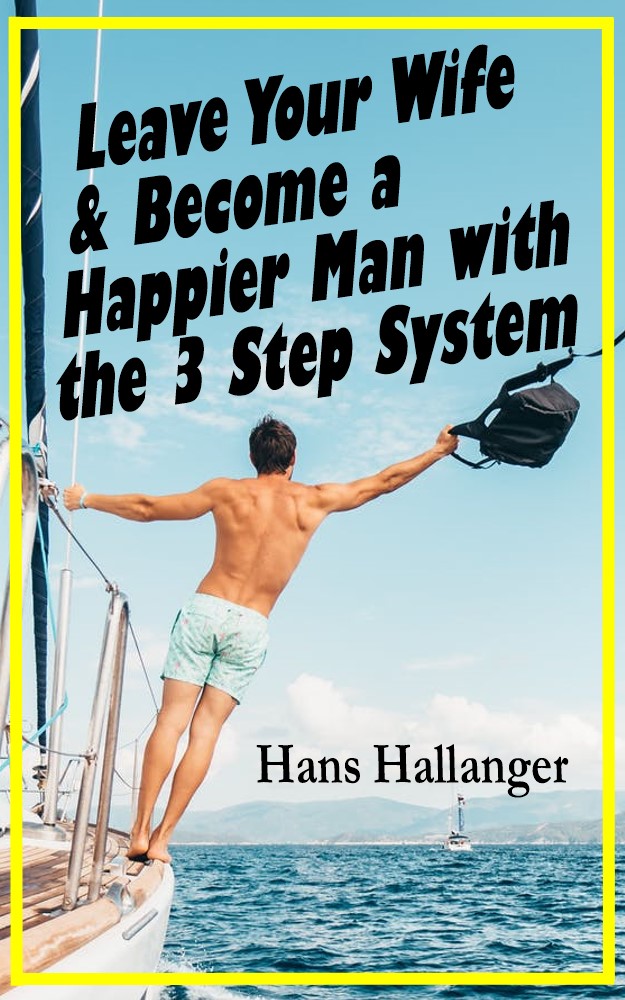 Click to go to learn more about the book
Share a Comment About This Topic.
Do you have a comment about this or something to add? Share it!