I Am Selfish
But I Am Good

I am selfish, but I am good.  I keep saying it.  The more selfish I act the better my life becomes.  I used to not be this way.  I thought of others first.  I bent over backwards for others.  I said yes to everything and everyone.  I thought others were more important than me.
I did all of that just like you do and my life was a mess.

I thought everyone deserved success, happiness, good jobs, an abundance of all good things.  But I thought I did not deserve those things.

I thought other people did.

Why, I am not sure.

What I am sure, is that this type of thinking ruined aspects of my life.  It caused me to try things and stay in things that I had no interest in, no aptitude for and sometimes even a hate to be involved in.
I Am Selfish

Some of the things I were in caused me huge anxiety and sometimes illness like high school basketball.  Some were financially devastating and emotionally crippling  like my marriage.

I felt like I could not quit basketball even though I hated it, could not play well, could not contribute and was even a detriment to the team.  Because quitting was something you just did not do.

I felt like I had to stay married to my wife even though she was not good for me and was shortening my life and eliminating any chance  I had to be happy. Because divorce is wrong and it is up to me to suffer unselfishly.

But I did quit basketball and had a great senior year of high school.

I did leave my wife and my life has never been better.  I am selfish.

This strategy is one where you concentrate your energy, thoughts and attention on only the things that affect you personally.  You think of your needs, your wants and your desires to the exclusion of all else.

If you think of it this way, your life will be so much simpler and better.

Of course, you cannot turn on the TV, radio, open a newspaper or go on-line without being inundated with information over what to be outraged or concerned about and how important it is to be unselfish.

I remember watching sports shows and listening to the commentators going on and on about how much the big time coaches worked and how difficult the job was and how their health was suffering from overwork.

This is what I should be concerned with? How some coaches work a lot, eat too much and are overworked. I should be worried about them?

No one is forcing those coaches to take and keep that job. They can quit at any time. Some of them make more money in a year than other people make in a lifetime. To me, it seems like a pretty sweet deal.

It is the same thing with the professional sports players. We are supposed to be so concerned about their playing conditions. We are supposed to worry about them and the effects of injuries on them.

Who would think that running full speed down the field and having someone run into you at full speed would hurt and might cause some long term damage? Who would think that having your face repeatedly hit by someone would cause Parkinson's disease?
This doesn't seem like it would be good for your brain
One good aspect of sports is that it clearly shows us how athletes and coaches selfishly go after what they want.

Sports is the ultimate selfish activity.  Every aspect of it is high level selfishness even though it is portrayed as something different.

Selfishness is one of the best qualities a person can have as long as in your selfishness you do not hurt others. I am selfish in looking after what I want.
---
From Randy Gage
Favorite quote - You must not sacrifice yourself to others because that is depravity.  Depravity because it is a certain state of moral corruption and degradation.  It is sick, a sure symptom of mental illness.
You cannot go wrong reading Randy Gage.

---
I Am Selfish, But Still Good
 I have never

Killed a baby in Vietnam

Raped a woman in Korea
Bayoneted a man born in Germany
Piloted a plane that dropped atomic bombs
Remote piloted a drone bomber plane
Burned a house filled with women and children
Killed anyone over oil
Forced anyone to do these things
Killed, robbed or hurt anyone
Stood proudly before a flag draped coffin saluting someone duped into dying for his country
Been awed by the advances in military hardware, I am sickened by it.
Been awed by a moon walk. I wonder why we have to give up our money for something so vain, so worthless, so made up.
This is the only life you have.  Be selfish and be good.

A Happier Man

›
Happy and Free
› I Am Selfish
The only way I could become the happier man I am today was by leaving my wife.  You might be in the same situation I was in.  I suggest you take a look at my book - Leave Your Wife & Become a Happier Man with the 3 Step System.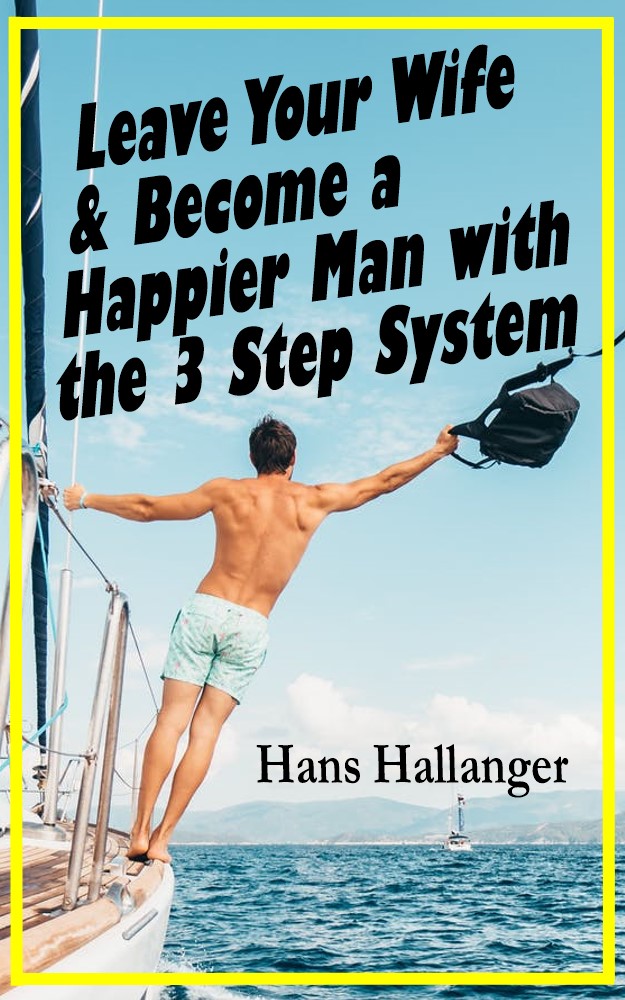 Click to go to learn more about the book
Share a Comment About This Topic.
Do you have a comment about this or something to add? Share it!