How to Minimize Frustrations For a Happier Life

You have to minimize frustrations to be happy.

I was sitting with my feet up in my big recliner with my favorite pen and paper making a list of what makes me makes me happy when I got distracted with problems.   Problems, setbacks and annoyances destroy your happiness.
My happy list making session turned into a frustration list of problems.  Even me, a happier man, has to deal with frustrations.

Anything that frustrates you will limit your happiness.  The more frustrations you have, the more your overall happiness will be destroyed.

You have to be ruthless and eliminate frustrations to have a happy life.

Not manage them.  Not work around them.  Not ignore them.
Eliminate them.
I Did Not Always Minimize Frustrations

Most of my life I was frustrated.
This frustration usually involved doing something that took a lot of time that I did not want to do.
Some of the Worst Time Consumers of My Youth

Going to school
Going to church
Going to religious education
Going to group meetings
Playing basketball

I have always wanted to have enormous blocks of free time to do what I wanted to do.  When I had that time...like now...my life has been full of happiness.
When I have plenty of time to read, write, think, plan, relax, sleep, work out, go out drinking, have fun and just goof around, I am very happy.
When I don't have that time, I get upset.  I get even more upset now that I know how I want to live than when I was younger.  When I was younger, I did not know any better.  Quitting was not acceptable.  I thought a lack of free time and a long string of frustrations was normal.  I could not see a different way.

But now I see it.  Now I have it, with rare times of not having it.  So when I don't have the time, I get frustrated and unhappy.
Life is very good now for me.  There are still moments of frustrations but far, far less than in my earlier life.

Frustration is not normal.  It is just another control mechanism to keep you in your place.

This does not have to be your normal life either.

---
From Blackdragon
The Hidden Danger of Recurring Problems in Your Life
Favorite quote -
These problems happen to you because you have not taken the time to eliminate them. "Eliminate" in this context means you take action to ensure they NEVER happen again. Instead, whenever these problems come at you, you get irritated, deal with them and get past them as fast as you can, and get back to your stressful life. A week or month later, the same problem happens again, and you get irritated again, and move on again.
---
Huge Ways to Minimize Frustrations

You have to quit whatever is causing you the most frustration.
This is almost unbelievably difficult.
No one wants you to quit anything, ever.
Especially the things that are causing you the most frustrations.
Things to Quit if They are Causing Frustrations
Marriage

Full-time relationships

Having more kids than you can afford


Jobs

College

Where you live

Religion

Following anything too much (sports, politics, entertainment, celebrities)

Joining causes

Anything you do all the time (sports, clubs, volunteer, etc.)


Bad habits
Marriage is first on the list because is it the biggest frustration most of you will face.  We are forced into marriage partly to cause us enormous frustration so we do not cause too much trouble for our rulers.  The societal pressure to marry is enormous.

In the case of my marriage, I had such little time for myself, my wife kept me so busy with her problems and demands that my life was a living hell.  It was only by leaving her that I was able to regain control of my life and my happiness.
The others all take enormous amounts of time and cause enormous amounts of frustration too.

The amount of personal power you will need to quit any of these will be enormous.  The pressure on you to continue doing what you have always done is huge.
That is why quitting one or all of these things is so good for your power.
But you may not be ready yet to quit these huge things and shed enormous amounts of frustration.
At least start the process by getting rid of all the little, normal frustrations that most people just think are a normal part of everyday life. 
They aren't.
You can minimize frustrations in a huge way.

Simple Minimize Frustrations Tips

Minimize frustrations by knowing what not to do.  Here is a list of some of the stupidest things you can do that start with the word NOT.

NOT
stopping earlier to use the rest room
knowing what time it is
bringing any money
bringing enough money
keeping your keys in the same place
knowing where the restrooms are
having extra toilet paper
taking notes at the meeting with your boss
getting the work done by the deadline
knowing when the work is due
paying on time
More NOT's

remembering important dates
stopping for gas
reading the instructions
being prepared for the job interview
getting to bed on time
setting the alarm clock
leaving enough time to get there
replacing the last one
making plans
exercising
stopping eating when you are full
stopping drinking when you've had enough
stopping smoking
getting directions
A few more NOT's
fully understanding what you are supposed to do
asking questions
doing what you want to do
getting her number
having fun
talking to her
getting out of a bad relationship
quitting a bad job
telling someone how you feel
speaking up
thinking that your life is the most important thing in the world to you
doing what you can with what you have where you are
living your life as if it was going to end someday
Not trying to find something by not looking for it.
You may need to get on your hands and knees and look. You have to look for it where you dropped it. You may have to look everywhere. You may have to move everything. You may need to expand massive energy to find it, especially if you are helping a disorganized person
Not keeping your wallet in your pocket.
My daughter and I were in line to buy gum at Wal-Mart. The guy in front of us had a baby in the shopping cart and another young child with him.
The clerk had already scanned the huge cart full of diapers, food, baby stuff and other household supplies. The clerk was scanning the last item when the guy said he left his wallet in the car!
This was a grown man, with two kids, mid 30's and he doesn't keep his wallet in his pants pocket. He is so disorganized that he is a borderline idiot.
What are you thinking about when you are going to buy things?

This is basic stuff here yet many people cannot even handle the basics.
Minimize frustrations and focus on making sure your life runs smoothly.

A Happier Man

›
Why Get Organized
› Minimize Frustrations
The only way I could become the happier man I am today was by leaving my wife.  You might be in the same situation I was in.  I suggest you take a look at my book - Leave Your Wife & Become a Happier Man with the 3 Step System.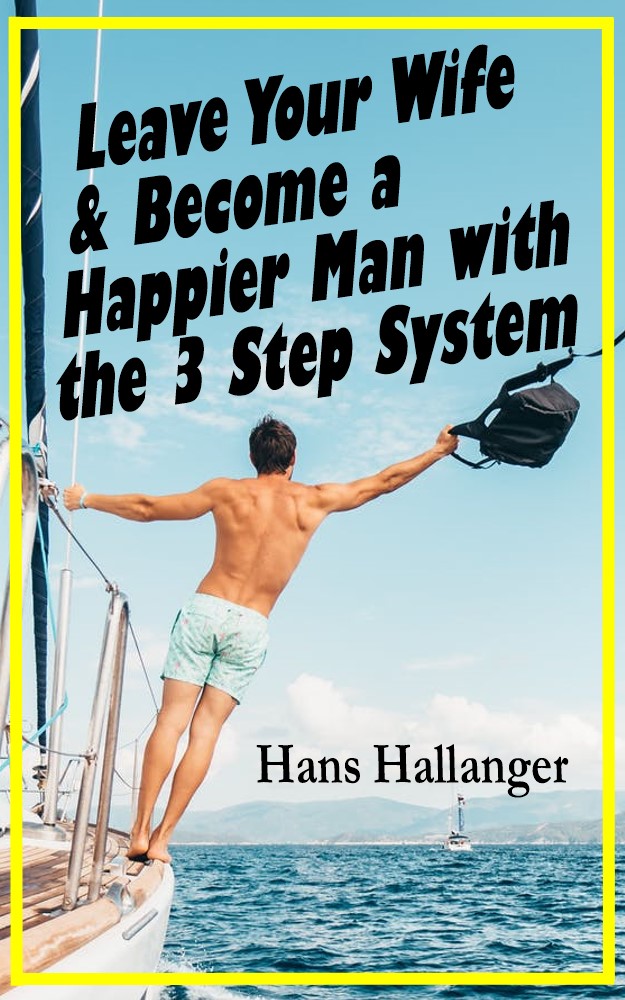 Click to go to learn more about the book
Share a Comment About This Topic.
Do you have a comment about this or something to add? Share it!