Rely on Yourself
You Cannot Count on Others

If you want a better life you need to rely on yourself. 
Everything good thing you get in the world will be mostly by your own efforts.
Yes, you will get some help from some people some of the time.  It isn't always bad.  You will get a boost, a hand, a leg up, some good advice, money, a job offer, something.  Some of you will get lots of all that.
Hopefully when you were a child your parents set about giving, providing and helping you to develop into a happy adult.
But the reality is that most of you did not get what you needed when you were a child.  Some of you were actively held down.  Most of us were held down because the people around us did not know any better.  Their method of help, did not help you that much.
I'm not complaining or critical of this, just observant of it.  If someone does not know what to do and is incapable of learning what to do, how can they be blamed?
So rely on yourself.

It's critical that you set about making your life how you want it. If you want a better, happier, more fulfilled life, it is up to you to get it.  It's not up to me to give you that life.  Or the president, or your boss or your parents or even your wife.
You have to grow up and see the world how it is

Not many people are interested in you having a better life.  Many want to take from you and insist you do a tremendous amount of unpaid work for them to make their lives easier.
You see how this works in the world and you will be tempted to do the same thing...get others to do for you...so you can have a better life.
I don't like that way.  I choose my way.  The rely on yourself way.
Rely on Yourself
It's the Best Way to Have a Happier, Better Life

Wayne Dyer Quote
Don't count on others.  The help you get from other people will be minuscule at best.  It will be non-existent mostly.  Sometimes you may even get non-helpful help.  The kind of help that sets you back.
Besides the Lord helps those whose help themselves.

What I do is expect that others will not follow through, not do as they promised.
So when from time to time they do something well or something right, I am pleasantly pleased instead of enraged that they only did that much.
This way you only rely on yourself as you should.
Your way, you are at other peoples whims and carelessness of others.
My way, you happily go about enjoying your life, making small and large improvements through your own efforts.
Your way, you wait anxiously for someone else to do something or to help you. 

People will be late, ineffective, non-productive, careless, lazy and ignorant.  They will not understand your instructions, no matter how much you simplify it or how much you explain.
Just get used to it.  Get used to having to spend of your precious time following-up, checking back, checking in and making sure.
The good thing about this is you become much more relaxed when dealing with others.  You don't get upset or frustrated because you expect that they will be difficult or screw things up.  Things won't go as planned with other people and you will adjust.
And you won't care. At least you won't care enough to get visibly upset with them and ruin the relationship.
Never assume that people will do what you want.

Never think that other people know best.
You do what you want and you know best for you.
---
From Rudyard Kipling
If you can keep your head when all about you;
 Are losing theirs and blaming it on you,
If you can trust yourself when all men doubt you,
 But make allowance for their doubting too.
If you can wait and not be tired by waiting,
 Or being lied about, don't deal in lies,
Or being hated, don't give way to hating,
 And yet don't look too good, nor talk too wise:

If you can dream—and not make dreams your master;
 If you can think—and not make thoughts your aim;
If you can meet with Triumph and Disaster,
 And treat those two impostors just the same;
If you can bear to hear the truth you've spoken
 Twisted by knaves to make a trap for fools,
Or watch the things you gave your life to, broken,
 And stoop and build 'em up with worn-out tools:

If you can make a heap of all your winnings
 And risk it on one turn of pitch-and-toss,
And lose, and start again at your beginnings
 And never breathe a word about your loss;
If you can force your heart and nerve and sinew
 To serve your turn long after they are gone,
And so hold on when there is nothing in you
 Except the Will which says to them: "Hold on!"

If you can talk with crowds and keep your virtue,
 Or walk with Kings—nor lose the common touch,
If neither foes nor loving friends can hurt you,
 If all men count with you, but none too much;
If you can fill the unforgiving minute
 With sixty seconds' worth of distance run,
Yours is the Earth and everything that's in it,
 And—which is more—you'll be a Man, my son!
---
One of the best programs to help you consciously improve your life is the

Secret of Deliberate Creation
This program really helped me to turn my life around.

A Happier Man

›
Be More Masculine
› Rely on Yourself
The only way I could become the happier man I am today was by leaving my wife.  You might be in the same situation I was in.  I suggest you take a look at my book - Leave Your Wife & Become a Happier Man with the 3 Step System.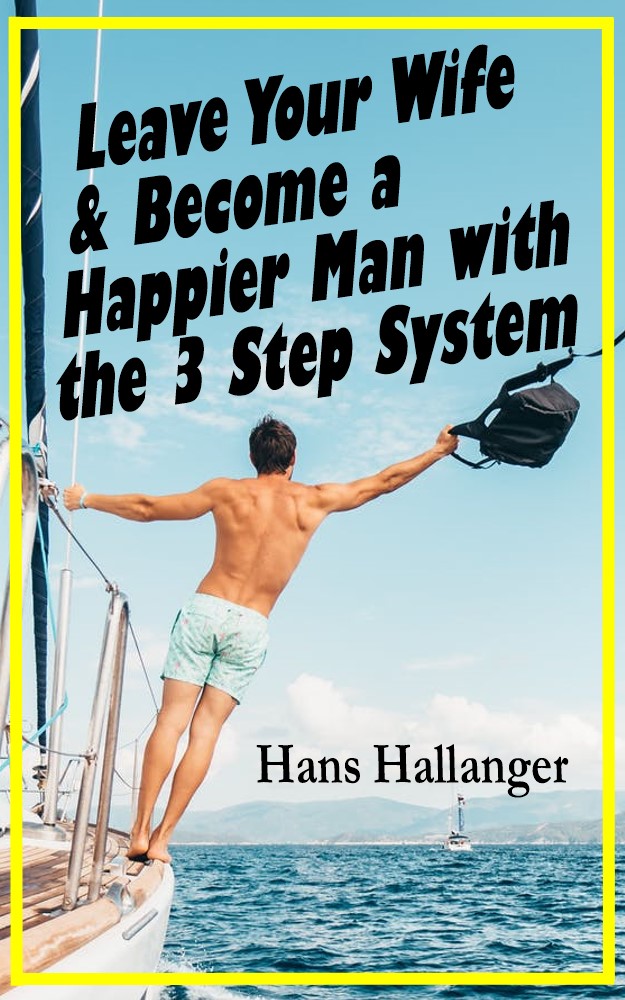 Click to go to learn more about the book
Share a Comment About This Topic.
Do you have a comment about this or something to add? Share it!