Respect and Happiness

Men deserve respect and happiness.  All good men do and most men are good.
Of course, if you are not good, then no respect.  But I will assume that you are a good man, decent, kind, caring and interested in having a great life.
Just like me.
I read a great article on Danger and Play, a few years ago.  Unfortunately, I cannot find it anymore.  But I will give you my take on it because the memory of it is still so vivid.

This post was almost eerie in how the man he talks about in the post, resembles my former married life. 
Respect and Happiness

In the post, Mike has a few videos showing how the wife of a somewhat famous on-line bodybuilding expert disrespects him.  It is painful to watch.  You can feel his life slipping away right on the screen.  There is no respect and happiness in the videos.

The man had a bodybuilding business and a You Tube channel talking about things related to bodybuilding, supplements and nutrition.  I remember seeing the videos even before seeing the post from Danger & Play. 
My thoughts on him before I read the post were

That guy is really jacked.
I wish I could develop that amount of muscles.
He speaks well and is engaging on his videos.
He must be doing great in all aspects of life.
His life must be full of respect and happiness.
I bet he gets all kinds of attractive women. 

I did not know he was married.


But after seeing the way his wife treated him on the videos, he is just another lost man in a sea of lost men.  He has no respect and happiness.   He is out there, trying to make the world a better place, and improve his life and his families life in the process, and his wife is so disrespectful of him and has such little regard for him, and holds him in such contempt, that she cannot even pretend to love him, or at least leave him alone for the 20 minutes or so he needs to shoot the video that he is preparing.

When the kids are acting up, instead of what normal women would do, like our mothers, which is say in a whisper to the kids,  ssshh, daddy's working.  His wife does nothing.

He seems like just one man working on his business with perhaps some occasional help.  I totally respect that.  He is doing what most men dream to do and need to do – creating something of value.  That is what I dream to do.  In the process of doing that, he will naturally be able to take care of his family in a better way.  His wife and family will be along for the ride on his massively impressive, muscular wingspan.

That is the way of men.

We dream.  We do.  We create.  And we do the work to make that dream a reality.

And we take care of the people around us.  And by doing so we get the respect and happiness we need to keep going, to keep doing.

The way it is supposed to work is  that the people around us, our wife and kids, see that, and leave us alone to do that.  They may offer some support, some help.  At the least they leave us alone for as many minutes as it takes to shoot some blasted, fn video.  They provide the respect and happiness we deserve.

He appeared to be doing this work himself.  It doesn't look like he has a big camera crew on standby ready to do the video over and over again.  He probably barely has enough time to do it once.  He is probably swamped with work and excessively busy with life.  He cannot do the video over and over again until it is perfect.  He is busy with his work and his dreams.  His dreams are respect and happiness, just like all our dreams.

Who does that anyway?  I suspect they do in the movies with million dollar budgets.  But in real life you only have the now to follow your dreams.  Perfection is not needed anyway.  Perfection is not how you get anything done.  You don't need perfection.  You only need respect and happiness.

When I was married, my wife was a dream stealer too.  I had no respect and happiness in my marriage.  I had even written a paragraph about it in my book – How to Leave Your Wife.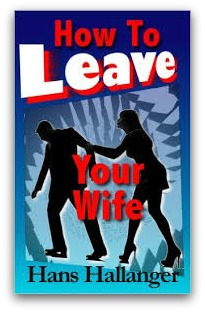 An Example of a Lack of Respect and Happiness from my book – How to Leave Your Wife
Your Wife as a Dream Stealer


It seemed that everything I said to my wife she would disagree with. It did not matter what.

When I told her I wanted to check into other Cities for us to live in because I was very frustrated in my job prospects and where we lived, she just said she would never leave the area.

She would not even discuss it. I did a lot of research and had all my reasons why and how I thought it would be so good for us. I mean I would have still had to have found a job. It was not a done deal, but I wanted to discuss it with her.

Why can't a man who is the sole breadwinner in the family look into other possibilities? What would be the harm in looking and dreaming?

When I said that someday I could see us having a vacation cottage, or a recreational vehicle or even a boat, she said, no, I do not want to do that. I will not have it.  I mean it was just a dream. We would need plenty of money to such a thing.  What I am saying is that if things go well and we accumulate some extra money that is something I would like to do. To her, my dreams meant nothing.

Why couldn't I talk about my dreams with my wife without her saying that my dreams were no good? She just discounted them.  We would have to have the money and find a way and maybe I would change my mind. But at that time it was a dream that she stole from me.  I mean how does anyone do anything without having the dream first? If your dreams are shot down, then you will not do anything.

I said what I really wanted in a vehicle was a ½ ton 4 by 4, 4 door pickup. It could be a Ford, Chevy, GMC or Dodge. The brand did not matter to me that much to me. A truck like that is what I really wanted.  She would always say that if you get a truck, get a truck. And to her that meant a full-size ton truck with all the bells and whistles.  I said that I really did not want a truck that big. It would not be practical at all. It would not fit in a garage. It used a lot of gas. It would be hard to drive in the City. Plus, they cost a lot more. It did not make any sense for me to get a truck like that.

When I pointed this out to her, she just scoffed.  I thought that I could make getting the type of truck I wanted much more quickly than the type she said. In fact, I thought I would not ever get the type of truck she said.
The biggest dream she stole was when we bought a duplex in the inner City to use as an investment and a way to make more money.

I wanted to be a landlord and generate some more money. I was having no success in getting promoted and the job I had just did not pay that well. She was not working and there were so many bills to pay and things to do.  So I did all the research into real estate. I read books, went to seminars and looked at properties.

My dream was to buy more properties and generate a good side income. The place we bought was inexpensive, and run down. But once we got it fixed up a little the rent would easily cover the mortgage and taxes with money left over.  She wanted to run a daycare center in one of the units. I guess that was her dream.

The place was in a bad area. I did not want her and our baby son going there every day to run the daycare. Why couldn't she just run her daycare at our house so she wouldn't have to go into the ghetto?

What I am saying is that a husband and wife needs to be discussing their hopes and dreams together and working together toward those goals. They need to encourage each other and not step on each others toes. To me it was wrong of her to make my rental idea so hard to do by insisting on doing her daycare there. The daycare just did not make sense to me.

I was planning on going there after work and on the weekends to do the work necessary to get the place rent able. She would insist on coming along with the baby and making it difficult to get any work done. She had all these fancy ideas on how to fix up the place for a daycare center rather than as a rental place for lower income people. These plans just destroyed my budget.

We ended up selling the place about a year and a half later without making any money.
I did all the legwork, all the research, all the study and I provided all the money. In the end I was left with nothing.

End of Book Excerpt describing my lack of respect and happiness.

I had so many dreams as a younger man but it was like my wife was this giant anchor holding me back.  She had her arms wrapped around my neck, thinking she would drown but we were only in a few inches of water.  She could not let me be to create.  She did not give me the respect and happiness I needed.

I have a feeling that the only way a man can do the types of great things that great men do is to be unmarried.  It seems all the great men now are unmarried without children.  It is difficult to find anything inspiring from married men.  Try it.  Search the internet for guidance on how to live a better life as a man and it is mostly from unmarried men.  How could it otherwise?  Very few married men have respect and happiness.

Respect and Happiness in the Past

Maybe in the past, a man could be married with kids and do great things. Maybe he could have respect and happiness in the past.   But now, I am not sure.  When I see the man, I saw a great man.  An awesome body that takes massive amounts of effort to build and an internet business that takes massive amount of time and energy to build and maintain.

When his wife looks at him, she sees an arrogant fool.  She should be seeing him the way the world sees him.  She should be seeing him as her personal warrior, her personal protector, her knight, her provider.  That is the proper way a wife would see her husband.

But she is so far from it, that she cannot even leave him alone to his great work for a few minutes.  She cannot even keep the kids occupied for those few minutes.  She cannot even stay out from the front of the camera for  a few minutes.

A few minutes is all it takes to know your marriage is over.

If I were him, I would be planning my escape.  No man, deserves the contempt of his wife.  Your life is too important.  Respect and are happiness too important.

Everything begins and ends with your mindset. Instinct. Belief in yourself. A refusal to suffer indignities. Self-respect. Vigilance. Mindset -from Danger  & Play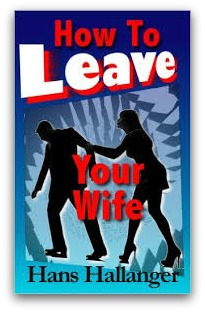 A Happier Man

›
Low Self Esteem Signs
› Respect and Happiness
The only way I could become the happier man I am today was by leaving my wife.  You might be in the same situation I was in.  I suggest you take a look at my book - Leave Your Wife & Become a Happier Man with the 3 Step System.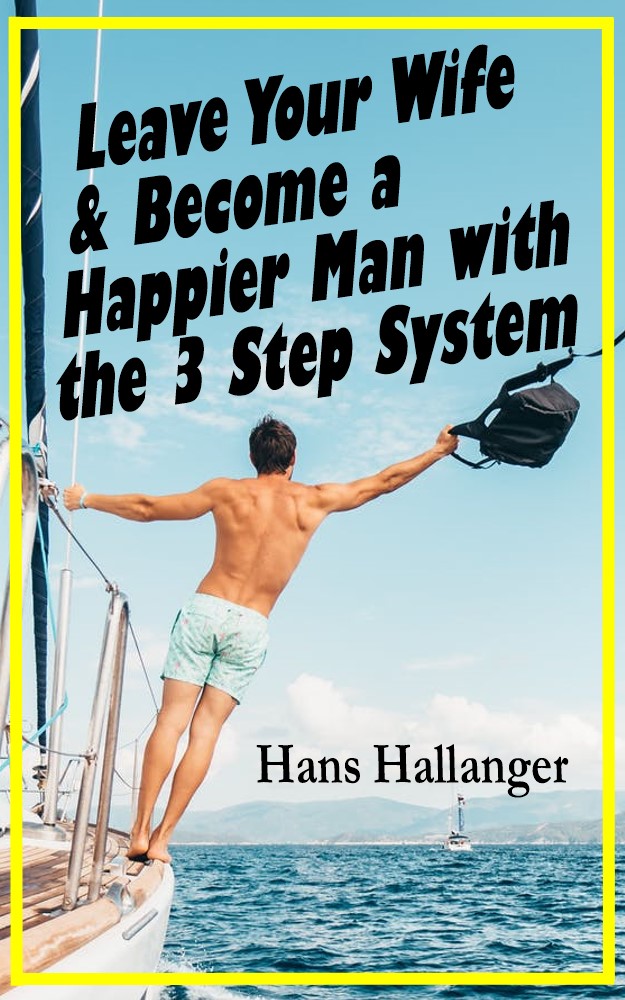 Click to go to learn more about the book
Share a Comment About This Topic.
Do you have a comment about this or something to add? Share it!