Create a Happy Simple Life
You can have a happy simple life.
Or not.
It's up to you and how much you are willing to shed much of what you hear and know.  Variety and experimentation is good.  Except when it conflicts with having a good life.
I prefer a simple life where everything flows.  No huge downs.
I prefer a few huge ups.  But if the ups cause a down.  I'll pass.
It's tempting to over complicate your life with all the choices we are faced with every day. 
I find that most of what I love the most and most enjoy is the same or similar to what I've always liked.  I try and experiment, but I usually go back to something just because I love it so much.

Simple Life Basics for Me

Me enjoying a happy life
Black coffee or coffee with cream instead of fancy drinks

Tap water instead of bottled water

No breakfast most days
Bacon and egg breakfast late on weekend mornings

Cold cut meat and cheese bag lunches for work

Meat and salad dinners
A favorite low carb beer
Inexpensive wine
A few favorite mixed drinks
An easy route to and from work
Some go to meals that I don't need a recipe
Meals that require a recipe only need a few ingredients

Errands and shopping only take a very minimal amount of time
I know the stores layout so I don't waste time looking
Once you have your ideal simple life well dialed in, you don't mess with it
Simple Life Entertainment
I like doing the same things I've always done too.  I still like the same things I liked when I was 18.
Drinking beer
Joking around with friends
Looking at pretty girls

Trying to meet new girls
Having man-woman fun
Seeing new things by traveling
Watching Pro Football
Watching a few favorite comedy shows
Reading
Driving around
Hanging out with family
Not working too hard
Not working too much
Relaxing with my feet up
Exploring by walking

---
From Bold & Determined

Favorite quote -
Success is easier than everybody thinks it is.
Everybody thinks too much, and nobody thinks about what is simple and obvious. Many people think the most simple and obvious thing to do is wrong, even though that is how everybody who is rich got rich.
So what is your problem? Why do you find it hard to succeed?
Well, you find it hard to succeed because you are exactly like most people…
You over-complicate simple things.
When you over-complicate simple things you make success impossible.
You must remember that less is more, more is not more. Doing more is keeping you from gaining material and personal success. You overlook what is right in front of your face (the obvious) and you make up problems.

---
Simple Life - What I Don't Like
A better life is one where you cut out and minimize what you don't like.  I've spent far too much of my precious time doing what I hate. 
Playing basketball
Being in a boring time consuming activity

Being married
Working very long hours
Working under incredible pressure
Worrying about job layoffs

Not laughing
Not going out for a few drinks
Being overwhelmed with bills and money problems

Being manipulated into doing things I did not want to do

Suffering under unbelievable verbal abuse from my wife
Dealing with my ex-wife's constant harassment

Complicated Things People Do
Here is a list of things I've seen a lot of people do (that I don't ever do) that needlessly complicate their lives.
Stop for a coffee every day.  I love going to the coffee shop but only to sit and enjoy the atmosphere.  I either go to talk with someone or to think and write.  I rarely need to stop and do something in the morning on the way to work. 

Drag around some beverage to meetings.  Unless I am going to be in a working meeting for half a day or more, there is no reason to have a drink with you.
Constantly check your phone.
Drag around your laptop to all meetings.
Spend a lot of time posting to social media and following others.
Worrying about other people.
Not focusing on the matter at hand.

Simple Life - Wrap Up
You could try a simpler approach to your life.  Simplifying is much easier than making it more complicated.
Benefits
You don't run late
You don't miss appointments
You aren't super busy yet never get anything done

You don't misplace your wallet, phone or keys
You aren't short of cash
You don't pay your bills late

You aren't tired
You're not anxious
You can always find what you're looking for
Every step you take to make your life easier will pay off in enormous time savings in the future.
A Happier Man

›
Why Get Organized
› Simple Life
The only way I could become the happier man I am today was by leaving my wife.  You might be in the same situation I was in.  I suggest you take a look at my book - Leave Your Wife & Become a Happier Man with the 3 Step System.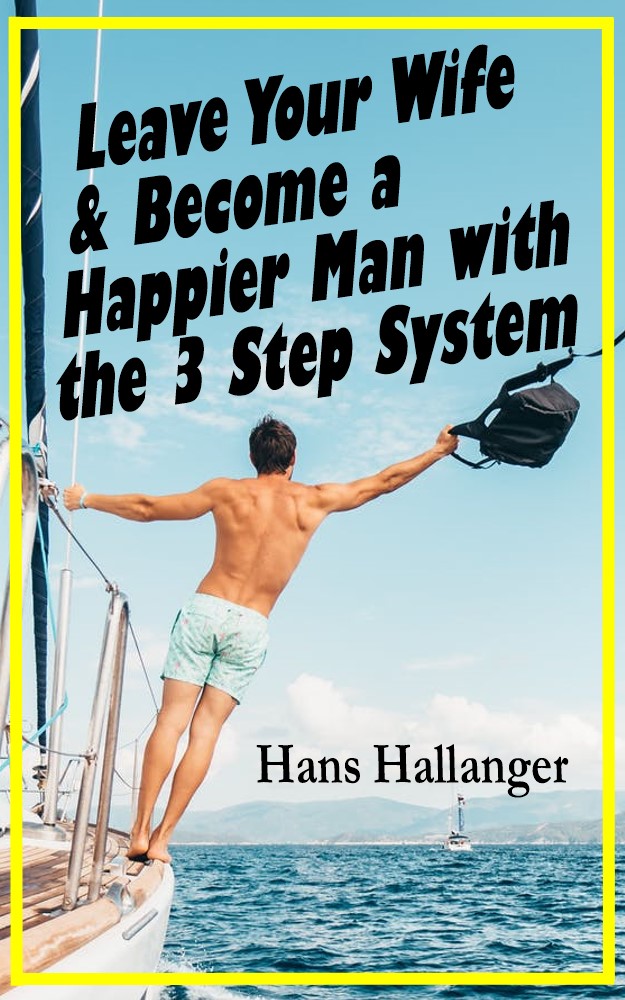 Click to go to learn more about the book
Share a Comment About This Topic.
Do you have a comment about this or something to add? Share it!