Happier Man Home Tips
I have a happier man home.  For me a bachelor.  Divorced with a teenage daughter living with me.
I have searched high and low for bachelor pad tips and have not found much that was informative or even thought provoking.


Usually there will be something about picking up the pizza boxes and buying as large of a TV as possible. Or some stupid comment about making the bathroom spotless.
So, I decided to tell you how my home is perfect for me.  A happier man home.
Setting the Stage for a Happier Man Home

First off, I am in my early 50's's and my teenage daughter lives with me me full-time. So my home has to work for her as well as me. The good thing is that we do not have to do things the way my ex-wife wanted. She was very good at decorating and making our house look good. But it just was not for me. Now, I want a home that works for me.
I rent a 2 bedroom, 2 bathroom apartment.  It's carpeted throughout.  Each bedroom has a bathroom.  The living room has a gas fireplace and sliding glass doors to a concrete patio.  There is a laundry room off the kitchen, lots of closets, storage and plenty of lights. I have a one car garage.  There is a big parking lot for my and an outdoor pool.
I think this is the best place I have ever lived. 

The only drawbacks are that a full flight of steps to get out and the parking lot has a lot of speed bumps.

The Basics for a Happier Man Home
Start with a Recliner
There is nothing that makes for a happier man home as much as a recliner. My wife would not allow a recliner in our house when I was married.
I love to sit here early in the morning, drinking coffee, with my computer on my lap reading or writing.  After work, I am back to the recliner for more of the same.  Sometimes a quick nap.  Sometimes a book or videos.  Siting here is always relaxing and recharging.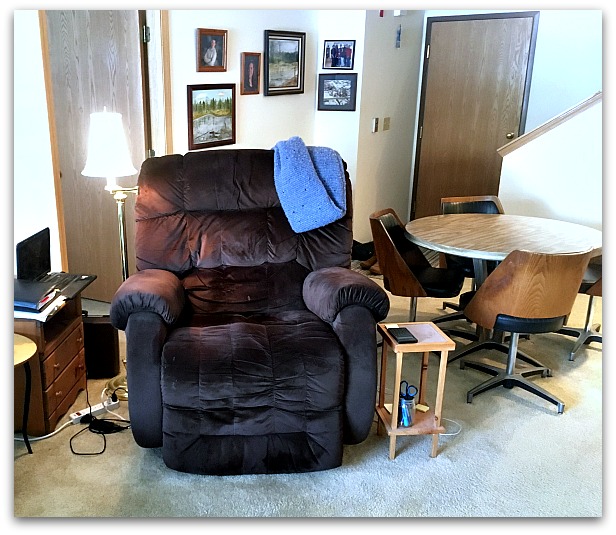 My big recliner with my laptop to my right on a small table and another small table on my left to hold a beverage and my phone. I also have a thin blanket folded up and draped over the top for napping. My dinette set is behind the recliner with family photos and artwork on the wall behind.
A Couch
This will be for you, your kids and guests to lounge around on as well as for your naps.  It's great for watching movies on with your kids.
My couch has a reclining seats so a table in front does not work.  The reclining seats are a real plus.  I tend to like to watch TV from the couch more than my recliner.  It's more comfortable to change up your relaxing spots anyway.
The most important function for you will be as a stepping stone to sex with women. You are not going to get very far with her if you are in your recliner and she is in a different chair. You have to sit together.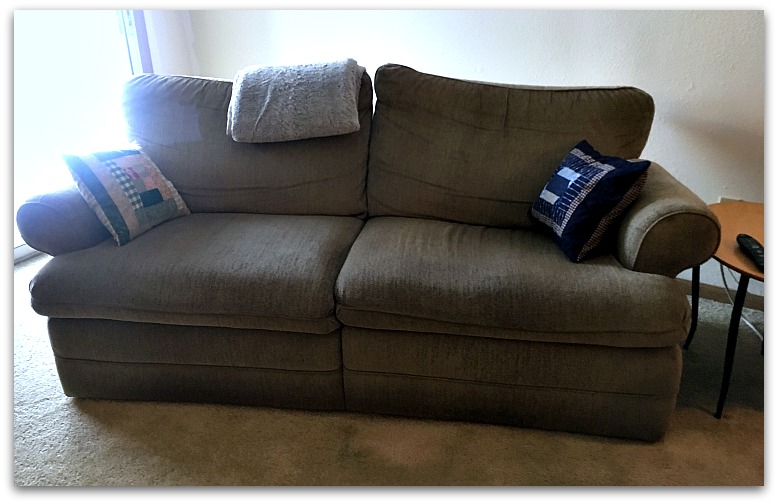 My couch is old. A hand-me down couch. But it is still comfortable. It reclines so it is great for watching TV and movies. It is long enough to nap on. I have slept the entire night on it. I have another thin blanket for the couch as well as 2 small pillows with quilt coverings made for me by my mother.
A TV
We all need a TV of some sort. I would not bother spending a lot of money you don't have on the best television with all the bells and whistles. Get a great tv if you have plenty of money and you have the rest of your life exactly like you want it. But if the rest of your life is lacking, then just get what you can easily afford and use your money for actually living well rather than watching other people live well. What difference does a high definition tv make to your life anyway?
I have cable now.  It's quite nice.  I enjoy it.  It was very helpful after my hernia surgery, giving me something to do for all the hours of recovery. 
It is expensive, but for now, I plan on keeping it.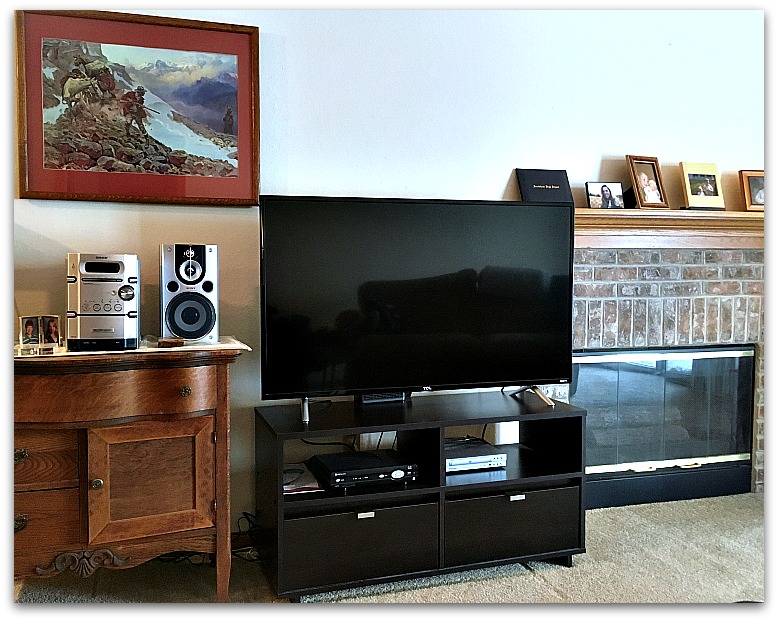 My big new TV. I bought it last year to help me recover from surgery. I have cable and tons of movies on my DVR. I have my favorite Charley Russel painting on the wall to the left above a family heirloom cabinet. The gas fireplace mantel holds some more of my precious children's photos and graduation plaques.
More Basics for a Happier Man Home
Other Chairs

This is in addition to your recliner and couch.  I have a small round dining room table with 4 chairs.  I have one stool at the kitchen bar.  And I have one leather chair in my bedroom.  I have 4 outdoor chairs on my patio and one rolled-up outdoor chair in my garage.

Too many chairs for the size of your home is not a good look.  It's irritating to walk around a chair in the wrong place.  But it's frustrating to not have places to sit for you and your guests.  You just the right amount.


Keep your place picked up
Stepping around junk is just no way to live. A house will always look dirty with excess clutter even if it is spotless.

See some of my other articles on this -

Keep your place somewhat clean
I am not a neat freak, but you must keep a decent level of cleanliness so you do not have excessive dirt and your place smells good.
The bathroom should be organized for your convenience and somewhat clean
I go into quite a bit of detail on my bathroom here - Happier Man Bathroom.
I say somewhat clean because keeping a bathroom spotless all the time is way too much work.

Queen size bed
King sized is great but a horribly hard to move and you need a giant sized bedroom
You have to act as if you will have women staying over from time to time. Plus it's more comfortable than a smaller bed.. 

Nice sheets, cozy blankets and a comforter or quilt
Again, make it comfortable, restful and cozy for youv. I see some people say to get a lot of pillows, but that just seems like a stupid way to make your life more difficult with all that messing around with pillows. Two pillows on your bed is plenty.
I only have a sheet, fleece blanket and quilt.  I hate heavy blankets and too many covers.  It's too heavy and hard to make.  I just keep my place at a comfortable temperature year around.

My super comfortable (expensive) queen size bed. High thread count sheets. Fleece blanket and quilt made by my mom.
---
Some more good ideas for your happier man home from So Suave
---
Put up pictures on your walls of things that inspire you
My wife had very different taste than I did. I had no interest in what she liked. Now, I only have what I want. I have pictures of my kids and family. I have artwork created by my father. I have the type of nature scenes that I like to look at. It is your home. Decorate it with what you want to look at. There is no real way to know what any particular women will like. But you know what you like or you can spend some time deciding what you like and searching for it. That is part of the fun.

A Bookcase
I like to read so I had my father build me a very large wood bookcase. It is beautiful to look at and holds a lot of books. Plus, my dad made it for me. Every time I look at it I think of him.

Keep food and drinks in your home
Young men are kind of notorious for not doing this. Think of how the young women you want to bring over will think. They will think of you as a thoughtful, with-it mature man who lives a great life. You want her to think that you are capable and competent. You are, aren't you? You do not want her to think you are an overgrown kid who cannot cook for himself and eats a lot of junk food and has to go out for every meal.
Organize the Layout
It takes some thinking, planning and trying to get the layout right.  You have to think through how you normally go about your life and then place the furniture and furnishings in a way that supports that.
It is not about how the place looks.  Most homes that look the best function horribly and are terribly uncomfortable.
I'm sure you've been in beautiful homes but wanted to leave immediately.  This is usually the reason.  The layout of the home is off.  It doesn't work. 
The easiest way to create a happier man home is minimize the stuff and develop a layout that works for your convenience.

Happier Man Home Conclusion
Make a List
I have a list in my Journal of things to acquire to finish my happier man home.  I am nearly complete.  Just a few more bigger ticket items:
New reclining couch

Gas grill

Garage shelving
I am planning on buying the gas grill and garage shelving this spring.  It's too cold and nasty to grill now or work in the garage.  I have wanted a new couch for awhile now.  The type I want is quite expensive.  The cost conflicts with my other goals.  So I am waiting.

Set up your home in exactly the way you want it in a way that makes sense to you
That is the beauty of being a bachelor. You can set up your happier man home exactly as you want it.
A Happier Man

›
Happier Lives
› Happier Man Home
The only way I could become the happier man I am today was by leaving my wife.  You might be in the same situation I was in.  I suggest you take a look at my book - Leave Your Wife & Become a Happier Man with the 3 Step System.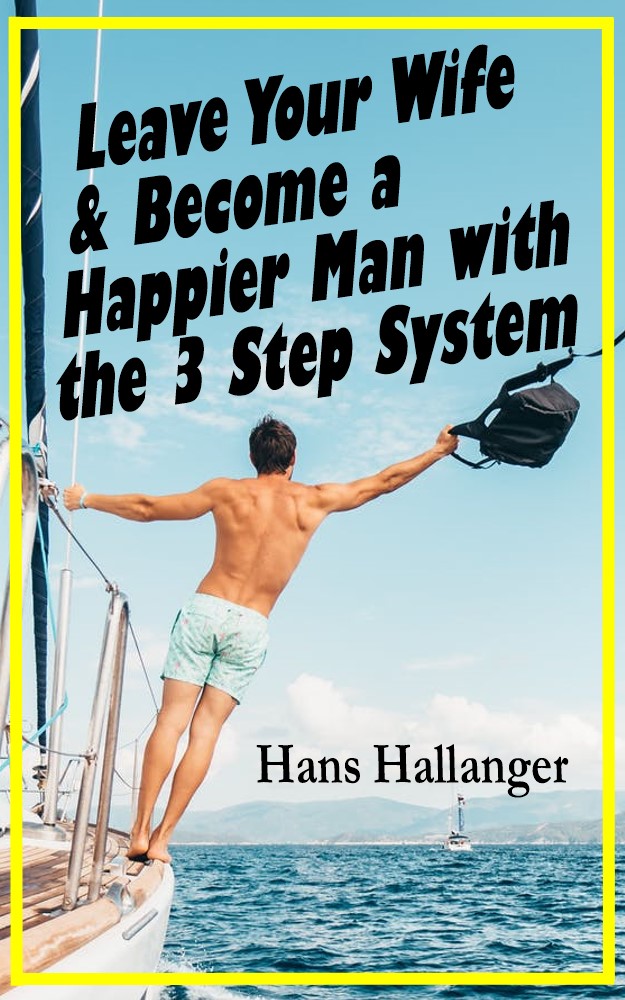 Click to go to learn more about the book
Share a Comment About This Topic.
Do you have a comment about this or something to add? Share it!