Your Standards

If you can firmly decide what your standards are in every area, your life will start clicking into place.  Instead of wasting time on things/activities/actions that do nothing for you, you don't.  You use your time, your most precious asset, in ways that serve you.

Men normally think in terms of standards when it comes to women.  Does she look good enough?  Is she nice enough?  Will what she says make you look bad?  Does she look good enough to be on your arm and make other men jealous?  Will she get along with your family and friends?

Having standards for the people in your life is an acceptable way to make sure you are happy or at least not miserable.

Sometimes you may have to relax your standards a bit with women if you don't have that part of your life how you want it.

---
From Good Looking Loser
Most Important Concepts for a Good Sex Life
Critical quote on relaxing your standard when it comes to women -
The above-average guys that Get Laid the most sleep with a ton of average-looking girls. 

You can lower your standards and still keep your dignity if you can think about sex as 'fun' rather than a reflection of your inadequacies. 
Your sex life will completely change if you can appreciate average looking girls.
---
Women are a Critical Part of a Man's Life
But Not Everything
Your Standards Should Apply to Everything
Set aside standards as just for the women in your life for a moment.  Women are a huge part, but not everything.

Think about setting standards for every critical area of your life.

And your standards need to be yours. 
Not Your

Families
Friends
Bosses
Government
Google
Facebook
Or Your Religion. 

All those others are only too happy to tell you how you should live your life.
You'll find yourself with no life if you let other people dictate your standards because your way may be totally different than most of the people you know.
I sometimes think I am the only person who thinks the way I do.  Especially when I am out doing something that I really like and nobody else is doing it too. There have been so many times when I am deep into a heavy workout in an empty gym or alone in a nice coffee shop or walking down an empty street.
I cannot even begin to count the times I have been out hiking on a beautiful day and have seen no one else. 
There were a few people at the beginning of this hike but none out here.
Getting Back to Your Standards
Here are some of my other articles discussing how I think about standards in other areas of my life to see what I mean.

You should have some realistic or achievable strength standards in mind so you have goals to work toward and know when you are strong enough and when to back off and avoid injury. 
What are the easiest ways to stand up for yourself?
There are 2 main ways

Leaving whatever bad situation you are in
Being big and muscular

Continually speaking out, defending yourself, negotiating, bargaining, discussing, reasoning and having to out-shout someone is a much too difficult way to live.

I hate that type of living.
As if you have to convince someone that you have a right to a good life.
The moments where you take a stand will define your life.
It is almost as if your life is a series of inconsequential events punctuated by a few brief, moments where you either rise to the occasion, make something of your life, or step back, avoid doing what you need to do and fade back into nothingness.

I know this seems harsh and cruel to define someones life,but that is how it is. 
How can a great life for you be anything other than you taking a stand? The better you want your individual life, the more you will take a stand.

My life has been mostly this down cycle of not doing much with occasional bursts of something real, something great, something fun and even something monumental thrown in.

You will not have any kind of life at all without doing this. You know I am right. You know this is said over and over again and yet you still ignore it.
Creating an Ideal Life
---
Your Standards for Maximum Body weight
From Steve Shaw at Massive Iron
Steve talks about a maximum body weight for men at about 250 pounds to avoid dying young in this video.
Scroll to the 1:45 minute mark if you are in hurry.

---
Standards on Income, Types of Work and Money
What are you willing to do for money?  What type of job are you going to strive for?
I discuss some of the standards I have discovered over the years here -
The types of jobs you get into will effect every moment of your life while you are working there and can even effect you far into the future.

It is critical that you plan this area of your life well and that you be willing to keep making changes as long as it takes until you are happy.
The happier income level is about $75,000.

A high quality career will shape your entire life.  A low quality job will leave you stagnating for years, maybe even your entire life.
Your career is critical to your success.
The better your career, the better your life.
Some of the worst aspects about bad jobs include set routines that never vary, no paid leave time, excessive hours, your boss thinks he owns you, unfriendly co-workers, boring work and fear.  Fear of management.  Fear of being laid off.  Fear of losing your skills.  Fear of never getting ahead.

If you can avoid these types of situations, you will enjoy your work life.
Finally, How Much You Will Tolerate From Others
How much are you willing to take from others?  Especially from a wife or girlfriend?
I think you should not "take" anything from anybody except in extremely limited circumstances.
You may have to deal with some humiliation and holding your tongue if you are stopped by the police.  It would be stupid to stand your ground to the police.
Some people take this no tolerating idea too far and get the police upset at them.
Stupid move.
For too much of my life I was willing to tolerate abuse in all it's life destroying forms.
My own low self esteem.  My own lack of confidence.  My shyness and anxiety.  Bullies in school. I suffered stoically pains, frustration and humiliations.
"The average man is a conformist, accepting miseries and disasters with the stoicism of a cow standing in the rain."  - Colin Wilson

Then the ultimate pain of staying with a verbally abusive wife...for years.  Even a few years after I finally realized that I had no hope of a good life with her.

Of course my life sucked.  How could it not?  I just soaked up the pain and dealt with it.  Until I decided to not take anymore and left her.  And my life has been steadily improving, sometimes in leaps and bounds of happiness.

Now I scarcely tolerate anything at all.

A Happier Man

›
Low Self Esteem Signs
› Your Standards
The only way I could become the happier man I am today was by leaving my wife.  You might be in the same situation I was in.  I suggest you take a look at my book - Leave Your Wife & Become a Happier Man with the 3 Step System.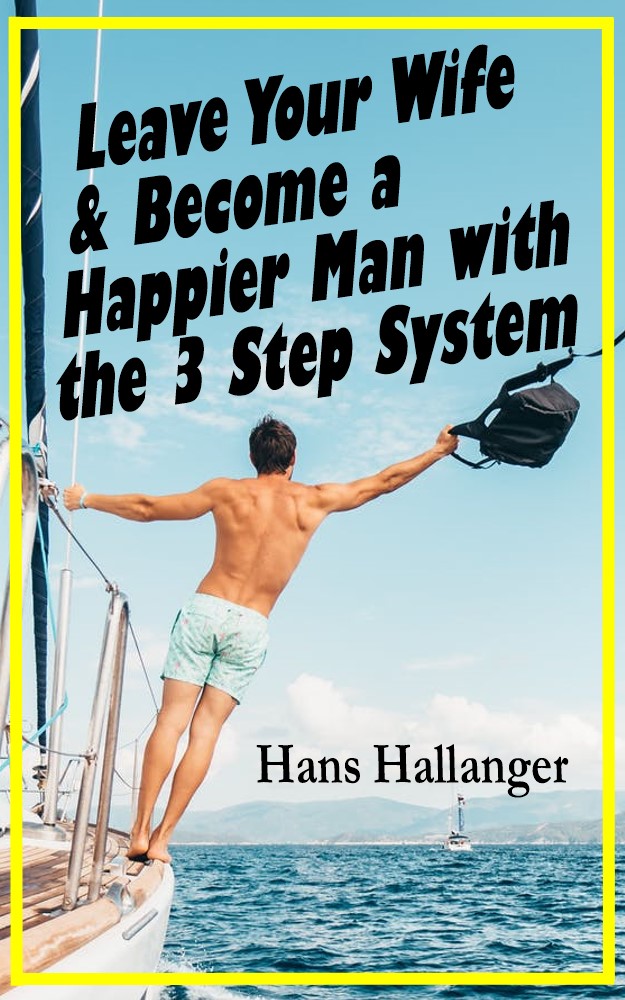 Click to go to learn more about the book
Share a Comment About This Topic.
Do you have a comment about this or something to add? Share it!